January is Move Over Month in Florida, Do You Know the Law?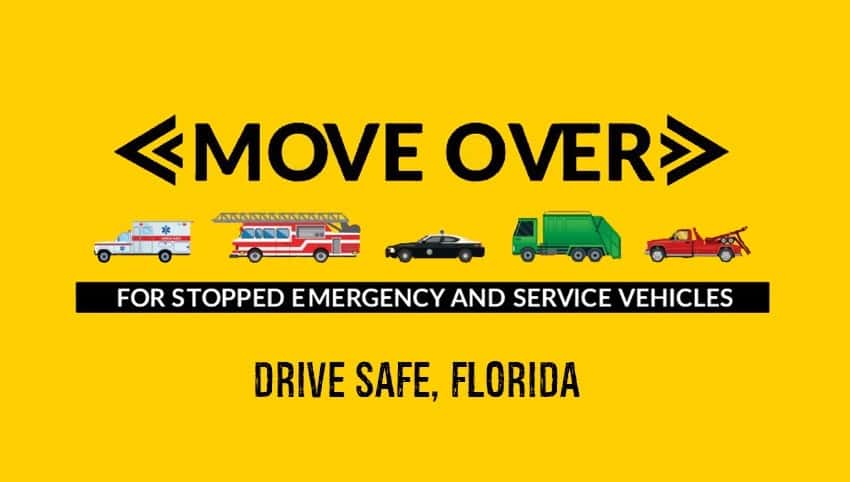 The Move Over Law is a very important law pertaining to motorists, but since it is a newer law in Florida (passed in 2002), many people don't know the law. To spread awareness of the law among Floridian motorists the Florida Department of Highway Safety and Motor Vehicles (DHSMV) has declared January Move Over month.
Move Over Law
The law states that motorists must move over one lane for emergency or service vehicles that are stopped alongside the highway or road. If one cannot safely move over a lane, the driver must slow down to 20 mph less than the posted speed limit. If the speed limit is 20 mph or less, the driver must slow down to 5 mph.
The law is pretty simple and it is intended to keep emergency, service and law enforcement workers that are working on the side of the road safe from passing cars. And, chances are if there is an emergency vehicle, they are there helping other people, so it helps protect innocent bystanders as well.
This is law applies to law enforcement vehicles, fire trucks and ambulances and it includes tow trucks, sanitation and utility vehicles as well.
Since 1999, 213 law enforcement officers in the U.S have been struck by vehicles and killed.  And, according to the Florida DHSMv in 2016 there were 204 "move over" crashes that led to 68 injuries.
This is also a good time to remind motorists of the rules when an emergency vehicle has their lights on.
When an emergency vehicle is en route to meet an existing emergency that is giving audible signals by siren, exhaust whistle, or other adequate device, or visible signals by the use of displayed blue or red lights, the driver of every other vehicle shall, yield the right-of-way to the emergency vehicle and shall immediately proceed to a position parallel to, and as close as reasonable to the closest edge of the curb of the roadway, clear of any intersection and shall stop and remain in position until the authorized emergency vehicle has passed, unless otherwise directed by any law enforcement officer.
Want more information or to join in on the conversation?
Visit the Florida DHSMV's page for the Move Over Law or the Facebook page for Florida's Move Over Law.