Introducing the Dodge Durango Pursuit Speed Trap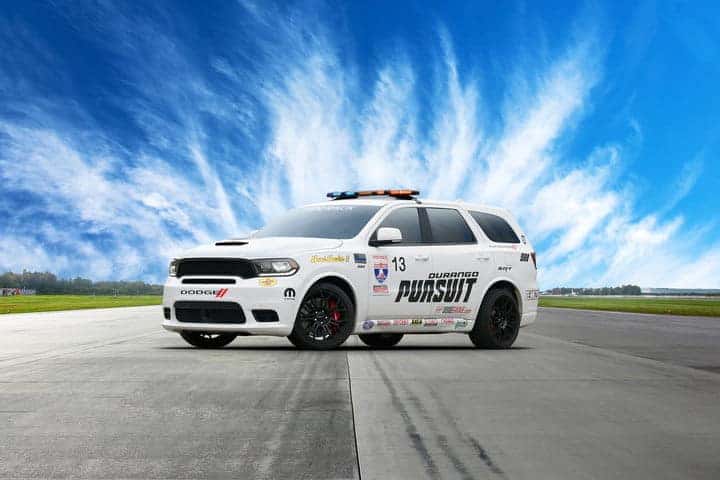 Here's something you wouldn't want to see in your rearview mirror: a Dodge Durango SRT Pursuit "Speed Trap." Touted as the most powerful "police" SUV ever, the Durango Pursuit Speed Trap features a supercharged V8 under the hood – yes, the very same engine that gives the Challenger SRT Hellcat Redeye its 797 horsepower! The massive engine isn't the only perk of this beefy Durango, the SUV also features a 15 mm lower suspension than the original Durango SRT, along with 20-inch custom wheels clad in foot-wide Pirelli P-Zero tires and a seamless Whelen siren and light bar. Dodge left the standard factory heated and cooled front seats, but for the sake of weight, saving removed the two rear rows. Additionally, this Durango Pursuit Speed Trap gets a racing harness and a roll cage.
While the Durango Pursuit looks like it could make the perfect law enforcement weapon to round up bad guys, it's quite literally just a one-off concept that Dodge entered the 2019 One Lap of America competition. Dodge is, in fact, defending its victory in last year's competition in the Truck/SUV category. This Durango Pursuit will be driven by SRT dynamics performance engineer David Car and journalist David Hackim at the week-long event. Dodge has scheduled a few stops at seven different race tracks and at a test facility belonging to Tire Rack, one of the sponsors.
Although the Speed Trap is intended to be a concept only, it's not impossible for Dodge to be inspired and put something like it on sale on sale. It wouldn't be so farfetched considering that sister brand Jeep currently offers a 707 horsepower Hellcat-powered Grand Cherokee Trackhawk. Both the Durango and Grand Cherokee are built on a similar platform, so a production version is not that extreme of an idea. As for the normal Durango Pursuit, it's not that far behind from the Speed Tap concept as it's powered by a 5.7-liter HEMI V8 under the hood.
The One Lap of America competition is widely considered the successor to the Cannonball Run – what was once a coast-to-coast race during the 1970s organized by journalist Brock Yates. Initially launched in 1984, One Lap of America promotes safe and legal races by advocating for race tracks. Over the course of a week, competitors will travel over 4,000 miles on public roads as they visit different tracks and take part in numerous events. Dodge joked that there's plenty of room for gear in the Durango so off-duty team members can take a nap throughout the event.
Although the Durango Pursuit Speed Trap won't be available to the public (or law enforcement) anytime soon, prospective buyers can explore the Durango inventory at University Dodge to get acquainted with one of the best SUVs in the segment. Browse the inventory and schedule your test drive today!
Photo Source/Copyright: Dodge