High Performance Brakes for High Performance Vehicles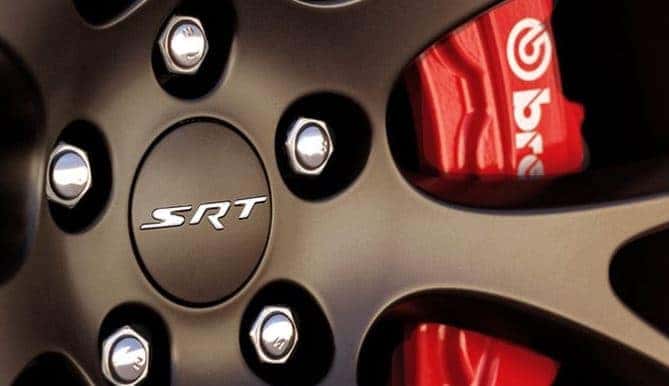 There's two essential components that separate standard vehicles from performance vehicles. A vehicle's engine and it's braking system. Sure, there are a lot of different things manufactures do to enhance a performance car's capability, but without the engine or the braking system, the vehicle wouldn't be street-legal, so it's thanks to high performance braking systems that drivers are able to enjoy their Dodge Challenger SRT 392, Dodge Charger SRT Hellcat and all of the other Dodge/SRT models.
What's in a Braking System?
There are a few different components to brakes and the most talked about components are the brake rotors, calipers and pistons. The more powerful a car is, the larger the rotors need to be and the larger the caliper and the more pistons. Pistons are located in the brake calipers and many performance braking systems, especially on Dodge vehicles, have brightly colored calipers for extra style.
Brembo 4-Piston High-Performance Brakes
There are two main types of high performance brakes used on Dodge/SRT vehicles. One set is the Brembo 4-piston high performance brakes with Brembo black calipers. This set of brakes is used on the two Dodge Challenger Scat Pack models and the Charger Scat Pack, which are all equipped with the 6.4L HEMI SRT V8 engine.
Brembo 6-Piston High-Performance Front Brakes
The second set of high performance brakes used on Dodge/ SRT models is the Brembo 6-piston high-performance front brake package, which includes red Brembo calipers. Aside from the Scat Pack models, this brake package is on Dodge Challenger and Charger models equipped with the 6.4L HEMI SRT V8 engine and the supercharged 6.2L HEMI SRT Hellcat V8 engine.
These brakes feature 15.4-inch slotted two-piece rotors in the front and 13.8 inches in the rear, which makes them the largest front-brake package offered on an FCA U.S. vehicles. The rotors on the Dodge Charger and Dodge Challenger are slotted two-piece rotors, which increase a brake's heat management and longevity.
The brakes bring the Challenger SRT Hellcat to a complete stop from 70 mph in 159 feet and the Charger SRT Hellcat to a complete stop from 70 mph in 153 feet. The Dodge Durango SRT is equipped with a similar brake package but the front rotors are slightly smaller – 15 inches. The Durango SRT goes to a complete stop from 60 mph in 115 feet.
When it comes to car performance, braking systems don't get enough credit. Sure, powerful engines like the 475-horsepower 6.4L V8 engine and 707-horsepower supercharged 6.2L SRT Hellcat V8 engine are impressive, but without equally impressive brakes, vehicles with that much power wouldn't be allowed on the road.
University Dodge is one of the largest SRT vehicle dealers in the Southeast U.S., so we have plenty of performance vehicles available here. You can view our Dodge/SRT performance inventory online here.