Here's How Mopar Added A Pop Of Color Under The Hood
From the gears that grind to the belts that drive! When consumers attend any car-related event, they will typically find that most of the vehicles have their hoods propped open. Not only does this show the engine, but it also reveals just how much work goes into developing a car that is true to its form. Throughout the 1960's and 1970's, any vehicle with the nameplate Dodge, Plymouth, or Chrysler, came equipped with paint-colored schemes on the engine block that immediately screamed: "THIS IS A MOPAR ENGINE." That splash of color not only signified power but also represented street credibility.
Race HEMI Orange Engine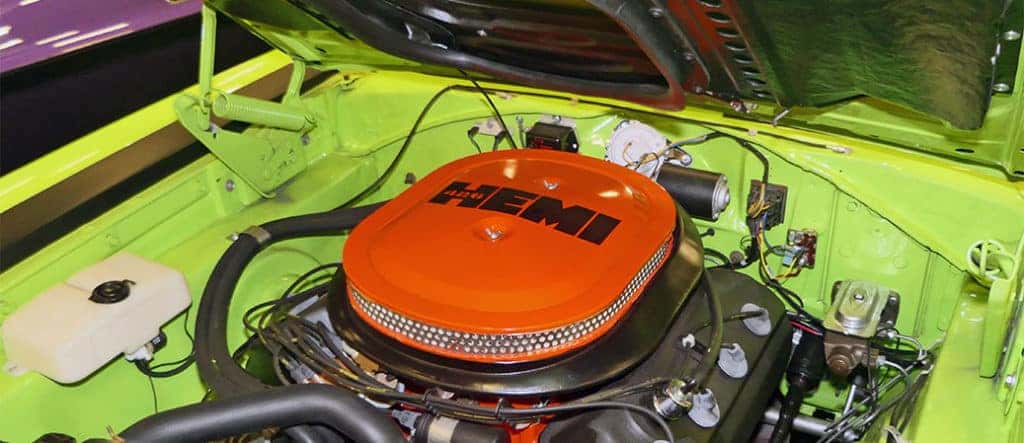 Found typically on the 1962-64 Max Wedge engines, the popular bright orange color was also included on the 1964-65 426 Race HEMI engine and the 413 and 426 Cross Ram truck engines. Today, consumers can find the bright orange color, that also signifies power, on new HEMI engines. From the 1940's to the 1960's, "Aluminum Silver" was usually used to paint Poly engines and was also common on flathead six engines. The Silver color separated the block from the high compression heads that were commonly painted bright red.
Street HEMI Orange Engine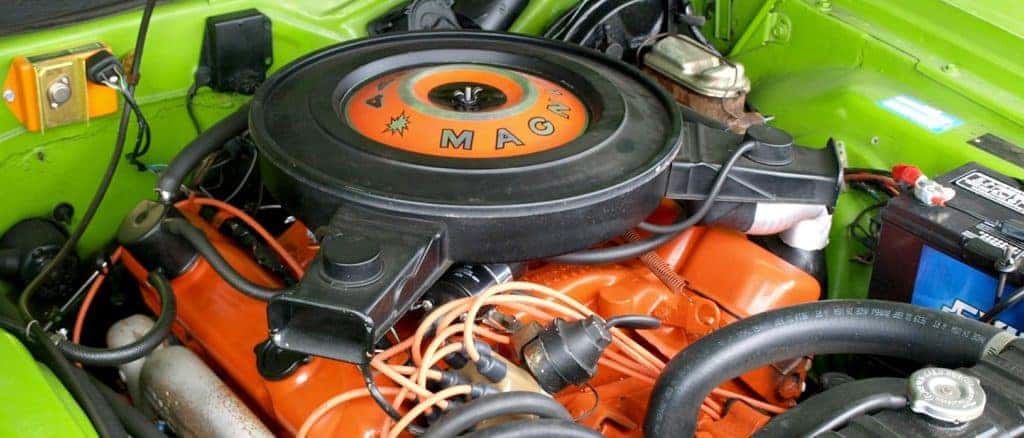 Generally used in a performance engine capacity from 1966 to 1971, the darker reddish orange color eventually came to be known as "HEMI engine Orange." This darker shade would have been found on the high-performance 383 and 440 engines, and the 340 engines that were in high demand in the early 1970's.   
Turquoise Rising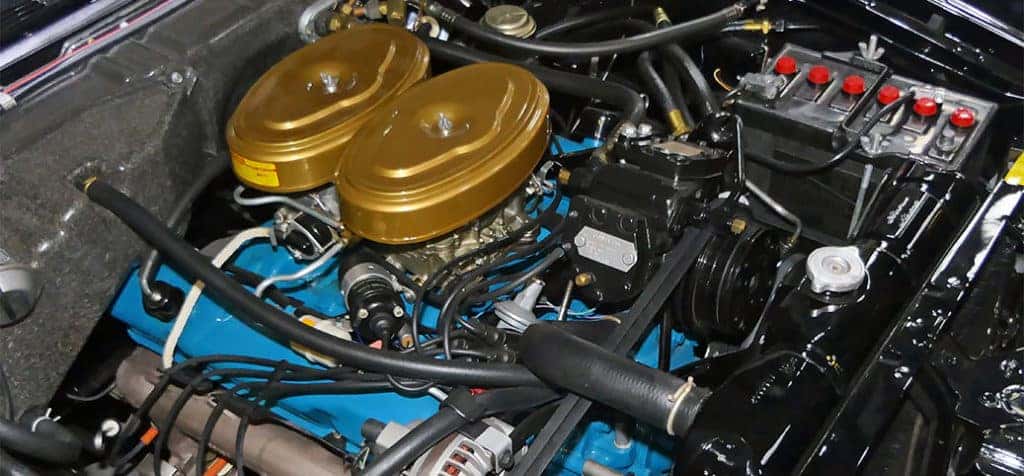 Except for the 1969-71 high-performance 383/440 engine, this medium blue-green color was utilized on all "B/RB" big block engines throughout 1962 to 1971. The turquoise rising color may be easily confused with the traditional "Mopar" blue paint, which would sometimes turn a shade of turquoise with heat and was found on numerous 340 and other L.A. engines towards the end of 1969. However, today, car collectors and restorers prefer the Street HEMI Orange when they repaint their engine blocks.
Mellow Yellow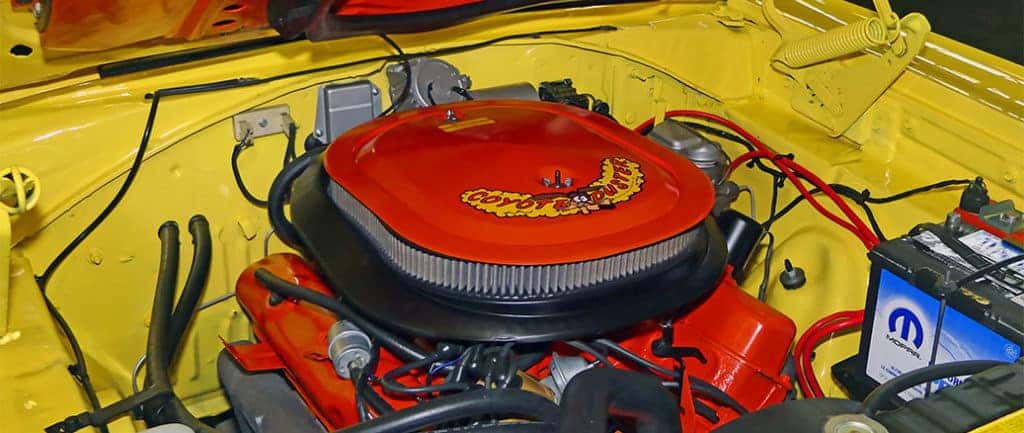 Only slant six truck engines, engineered from mid-1962 to mid-1969, were painted yellow. That in-your-face banana yellow color definitely stood out under the hood and meant serious business.
Back to Black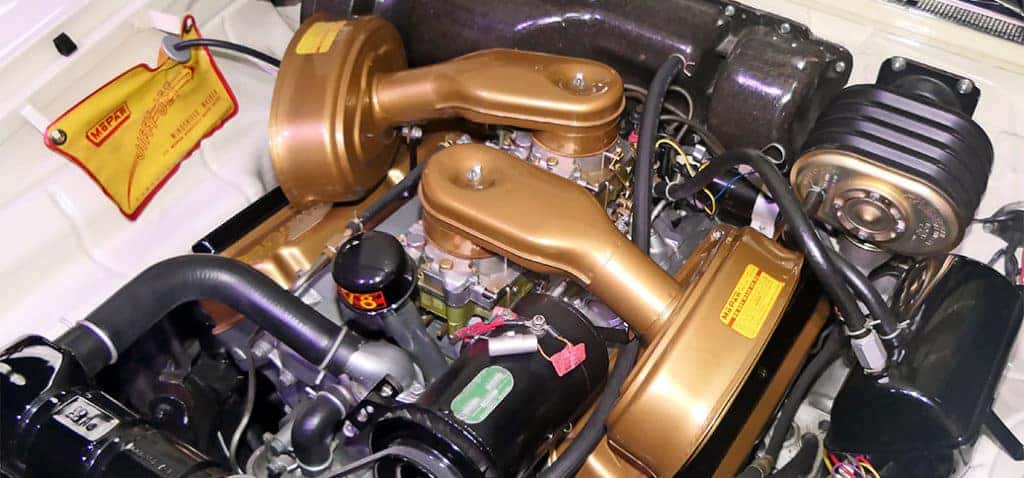 Nothing says "classic" like an all-black paint job. From 1981 to the present, 2.2-liter engines, as well as, 318 and 360 engine blocks were painted black. Sure, a splash of color adds a little bit of personality here and there, but nothing seems to make silver, chrome, and gray steel stand out like dark black. After recently re-adopting the practice of painting engine blocks, which consumers can find on the new 707 horsepower 6.2-liter Hellcrate HEMI engine that's painted Street HEMI orange, it's clear that bringing color under the hood started a long time ago.  
So, what do ya'll think? Should Mopar bring back the pop of color under the hood? Let us know on UD Social Media. Visit University Dodge and test drive one of our available 2018 Dodge Challenger models today.  
Photo Credit/Copyright: dodgegarage.com