Four of Dodge's Rarest Models, Ever Seen One?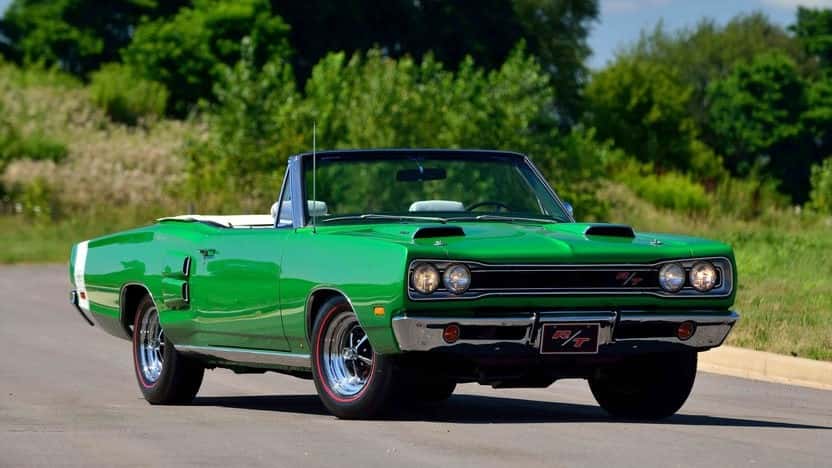 The Dodge Charger and Challenger may be icons, but Dodge's legacy is bigger than just those two models. Around the same time Dodge was developing the first Charger and Challenger models, they were experimenting with other models and in a few cases their production was very limited. Today, these limited production models are very valuable and they are in the hands of the few. Here are four of Dodge's rarest models. Check them out, and let us know if you've ever seen one (in person) before!
1967 Dodge Coronet R/T HEMI  Convertible  
The Dodge Coronet R/T HEMI Convertible with a was a 2-door model produced in 1967 and we use the word "produced" very loosely because only three models with a 426 cubic inch were made. Talk about rare.  The HEMI V8 engine paired with a 4-speed transmission produces up to 426 horsepower (vroom vroom!). There was also a 628 option for the buyers that wanted even more power. Regardless, both engine option for the Coronet R/T Convertible only came in HEMI engines packing tons of power. These vehicles go for over $200,000 today.
1966 Dodge Coronet HEMI  4-door
This is very similar to the last vehicle discussed, but it is a 1966 and it is a four-door (not convertible). Dodge only produced five of the 1966 models with a 426 HEMI engine and an automatic transmission. Of the five models, two were sold to foreign buyers and three to U.S. buyers. In 2007, one sold at a Barrett-Jackson auction in Scottsdale, Arizona for $660,000.
1970 Dodge Challenger R/T 426 HEMI convertible
The Challenger may be a popular car now, but this 1970 Challenger R/T 426 HEMI Convertible model is very rare. In fact, only 9 units of this vehicle were ever produced. This 426 horsepower HEMI engine comes paired with a Torqueflite 3-speed automatic transmission. This is a beautiful car and unless you want to drop roughly $2 million for it, looking is all you can do!
1964 Dodge 440 Ramcharger Lightweight 
The 1964 lightweight race car was very loved, however only 25 units were ever made and only six are known to exist. With a lightweight aluminum body for performance and a 425 horsepower HEMI V8, how could it not be loved? One of these babies sold at an auction in 2009 for $80,000. The most affordable of all the rare Dodge vehicles mentioned!
We may not have any of these rare vehicles in stock, but we do have plenty of other awesome Dodge vehicles for sale. Check out our entire Dodge inventory at University Dodge Ram here.
Photo source: Mecums Auction