Final Dodge Demon and Dodge Viper Sold for $1 million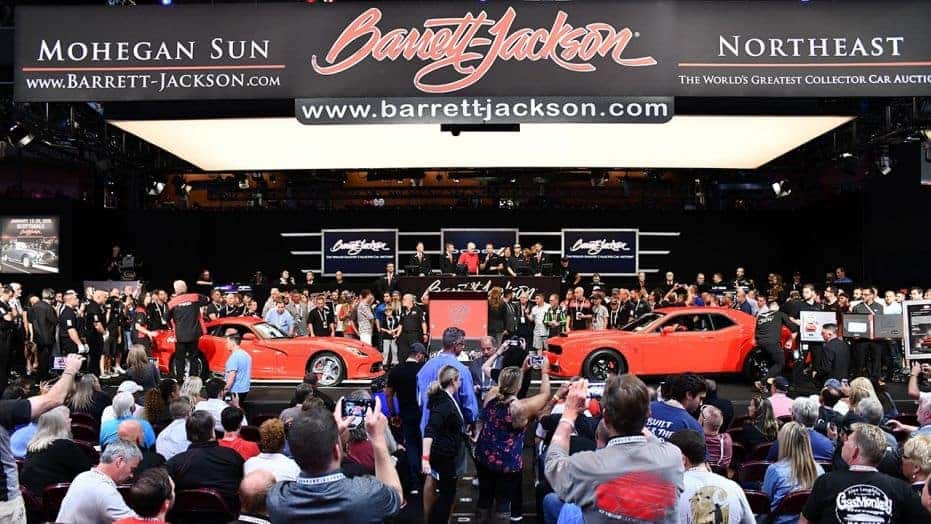 Photo credit:Dodge
For those hoping to buy the 2018 Dodge Challenger SRT Demon or 2017 Dodge Viper, luck might have just about run out. As far as Dodge is concerned, they have officially sold off the final Dodge Demon and Dodge Viper produced by the brand as a part of the "Ultimate Last Chance" package. The winner of the two vehicles was Dan Snyder, a Dodge collector with over 70 cars. This is his second Dodge Demon, according to the Dodge Garage.
How Much Did This all Cost?
The wicked fast Dodge vehicles were sold at the Barrett-Jackson Northeast Auction on June 23rd, 2018 for $1 million dollars. All the proceeds were donated to the United Way. They were sold as a package deal together that included the Dodge Demon Crate as well. Also included in the "Ultimate Last Chance" package were prizes such as memorabilia, certification cards, and an iPad that was crammed with videos and pictures as well as custom branded merch. Both vehicles came with a unique badge and an exclusive Viper Red exterior color that pays tribute to the original Viper RT/10. When everything was said and done, an additional $200,000 was raised, which made this event quite successful with over $1.2 million raised for charity.
"These particular vehicles mark the end of their eras as the last vehicles of their kind to be built; it's rare to have just one such vehicle cross the auction block, much less a pair at the same time." – Steve Beahm, Head of Passenger Car Brands at Dodge SRT, Chrysler and FIAT of FCA North America.
More on the Dodge SRT Demon and Viper
The final 2018 Dodge Challenger SRT Demon vehicles were built at the Brampton Assembly Plant in Ontario, Canada. This exclusive vehicle was a one-year-wonder that won't receive any more model year builds. There were only 3,000 Dodge SRT Demons built for the U.S Market with an additional 300 vehicles made for Canada. The Dodge Demon included in the Barrett-Jackson sale was hand-painted after it left the factory in Canada. The same production end came for the Dodge Viper when the last Dodge Viper was hand-built in Michigan at the Conner Avenue Assembly Plant which closed in August 2017. During 2017, Dodge only sold 585 units of the Dodge Viper in North America.
The Dodge Viper included in the sale was equipped with the Extreme Aero Package, which increases the car's downforce by 21-percent during aggressive cornering from 1,533 pounds at top speed to more than 1,700. The Dodge Viper provides 645 horsepower and 600 lb-ft of torque, which makes it only slightly less powerful than the Dodge SRT Demon.
How You Can Drive Away With Your Own Dodge Challenger SRT Demon
There's still a very few places that will have the 2018 Dodge Challenger SRT Demon available for sale. If you're set on owning a piece of history, talk to us before it's too late because we currently have inventory at University Dodge. That's right, this very special muscle car with it's unique supercharger 6.2-Liter HEMI V8 that produces up to 840 horsepower and 770 lb-ft of torque is available to own.
If you're looking to test-drive a new Dodge vehicle, we have a friendly sales team that can help you with any buying, leasing or trade-in offers towards a new purchase. We look forward to seeing you at University Dodge soon