Festival of the America's is Tomorrow / Festival das Américas é amanhã / Festival de las Américas es mañana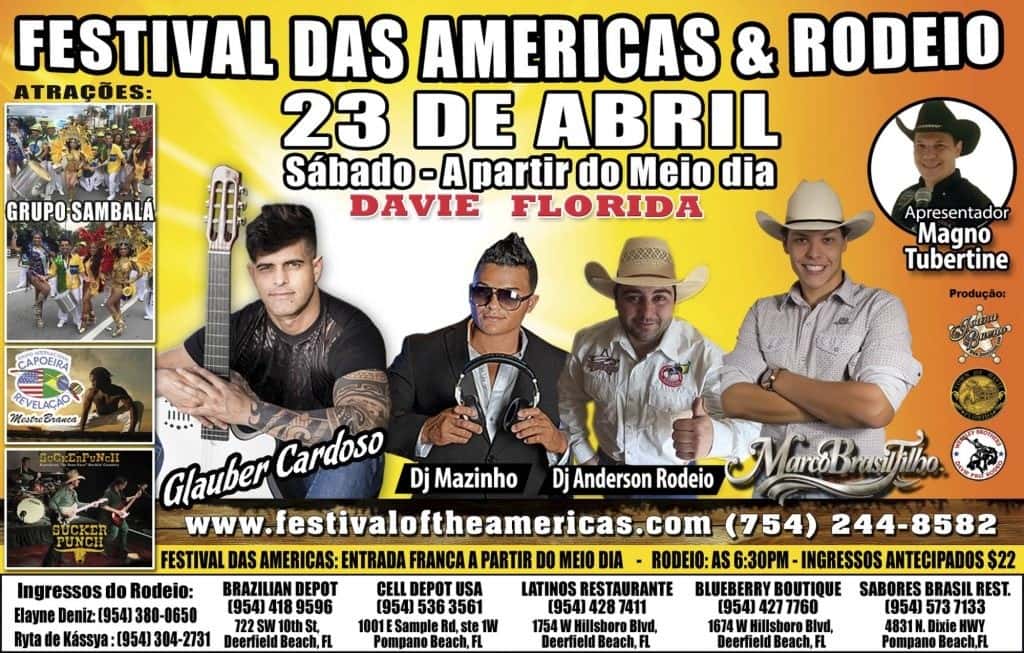 This Saturday (April 23) is the return of the one-day annual international festival and professional bull riding rodeo, Festival of the Americas held at the Bergeron Rodeo Grounds in Davie. The festival is a tribute to the blossoming and diverse community of American, Caribbean and Latino cultures of Davie and South Florida.
The festival will be held during the day from 12:30 to 6:30 p.m. and activities will include kids activities, live music entertainment and lots of food vendors serving up traditional cuisine from countries residing in the Americas.
The evening's bull riding sponsored by University Dodge will begin at 6:00 p.m. and will feature 20 pro bull riders from America, Brazil and a few other countries. The bull riding competition is set to conclude at 11:30 p.m., and a concert featuring a Brazilian country western band is to follow.
This year's festival and rodeo is partnership between the Town of Davie, Joana Bueno Productions, LLC and Davie Pro Rodeo. The Bergeron Rodeo Grounds are located at 4271 Davie Rd. in Davie, Fla.
Em português
Neste sábado (23 de abril) é o retorno do festival internacional de um dia anual e profissional rodeo montaria de touros, O festival das Américas vai ser realizada na "Bergeron Rodeo Grounds em Davie". O festival é uma homenagem ao Crescimento e diversidade da comunidade de culturas americanas, caribenhas e latinas de Davie do Sul da Florida.
O festival será realizado durante o dia 12:30-18:30 e atividades incluirão atividades para criancas, música ao vivo e muitos vendedores de alimentos que servem comidas tradicional dos países que residem nas Américas.
Montaria dos touros sera de noite as 18:00 e sera patrocianada pela Universidade do Dodge e contará com 20 cavaleiro do touro da América, do Brasil e alguns outros países. A competição da equitação do touro está definido para concluir a 23:30, e um concerto com uma banda country brasileira seguira.
Festival e rodeio deste ano esta em parceria com a cidade de Davie, Joana Bueno Productions, LLC e Davie Pro Rodeo. O Bergeron Rodeo Grounds está localizado na 4271 Davie Rd. em Davie, na Flórida.
En Espanol
Este sábado (23 de abril) es el regreso del festival internacional anual de un día de rodeo profesional de monta de toros, Festival de las Américas llevó a cabo en las Bergeron Rodeo Grounds en Davie. El festival es un homenaje al florecimiento y diversa comunidad de las culturas americanas, caribeñas y latinas de Davie y sur de la Florida.
El festival se llevará a cabo durante el día 12:30-18:30 y las actividades incluirá actividades para niños, música en vivo y un montón de vendedores de comida que sirven platos tradicionales de los países que residen en las Américas.
La monta de toros de la tarde patrocinada por la Universidad de Dodge comenzará a las 18:00 y contará con 20 jinetes de toros pro de Estados Unidos, Brasil y algunos otros países. La competición monta de toros se establece en concluirá a las 23:30, y un concierto de un grupo de música country brasileña es seguir.
Festival y rodeo de este año es la asociación entre la ciudad de Davie, Joana Bueno Productions, LLC y Davie Pro Rodeo. Los Bergeron Rodeo Grounds están situados en 4271 Davie Rd. en Davie, Florida.