Dodge Roadkill Nights Presented by MotorTrend is Back and Better Than Ever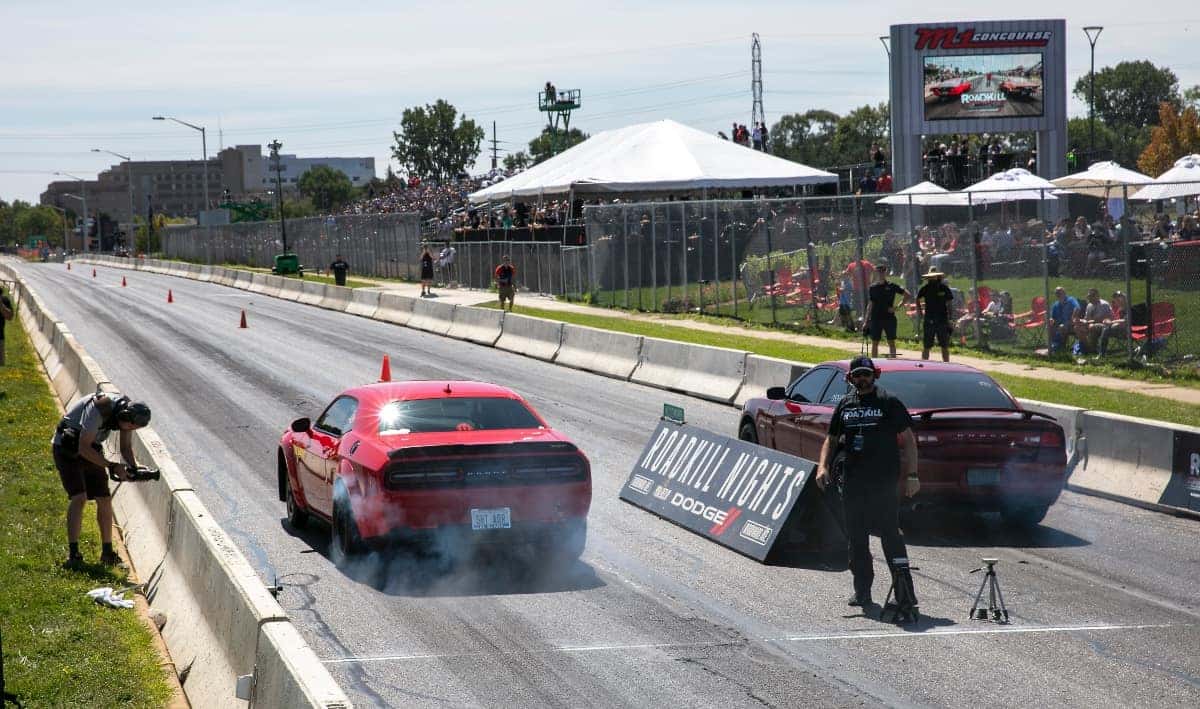 Believe it or not, Dodge is amping up its horsepower before completing its transition to EVs. The automaker announced it'll be launching a multi-day Dodge Speed Week event from August 12-20, 2022. Not only will this week pack enough Dodge news to satiate enthusiasts for the coming months, the brand is also expected to lay out the future of Dodge. Rumor has it Dodge will be introducing three new hybrid or full-on electric vehicles during its Dodge Speed Week. 
"There's no better place to unveil a new performance direction for the Dodge brand than right on Woodward Avenue in metro Detroit, with tens of thousands of our closest fans and friends. We introduced our two-year Never Lift road map last year at Roadkill Nights, and this year the even will serve as the prelude to going wide open throttle on Never Lift. All I can say is the future of our brand will be on display during Dodge Speed Week, and we're throwing open our garage doors so our fans can get a peek for themselves. It's going to be an electric summer for Dodge," said Tim Kuniskis, Dodge Brand Chief Executive Officer– Stellantis. 
Dodge Speed Week Schedule
Day 1: Press Preview
On the first day, the automaker is expected to kick things into high gear with the press peasant as it opens up its MotorTrend Presents Roadkill Nights Powered by Dodge at the M1 Concourse in Pontiac, Michigan.
Day 2: Legal Drag Racing is Back!
Dodge is poised to bring back legal street racing on Woodward Avenue, along with plenty of activities for enthusiasts at the M1 Concourse.
Days 3 – 5: Product Reveals
The middle of the week will arguably be the best time of the week for enthusiasts curious about Dodge's future. There are three worldwide Dodge reveals scheduled on three separate nights along with special guests. Dodge is returning to the Dream Cruise weekend event as well for the first time since 2019, putting up a full display of its latest offerings on Woodward Avenue as well.
Day 6: Dodge Dream Cruise
All of the brand's latest offerings and possibly concept vehicles will be on public display so enthusiasts can catch a glimpse of Dodge's future.
Roadkill Nights Presented by MotorTrend
The event is intended to celebrate Motor City's automotive culture by including a classic and modern muscle car show, its popular legal street drag racing, and many other activities that are set to take over the M1 Concourse in Pontiac, Michigan. The "Roadkill Nights Powered by Dodge" event marks the kick off to the town's traditional weeklong celebration of classic cars and car culture – like a timely ode to the industry that brought Michigan to life in the twentieth century. 
Heed Dodge's Warning
Street racing can not only have serious legal risks, it also implies a lot of safety risks. Dodge wants to remind enthusiasts that performance driving can only be enjoyed in a controlled and safe environment run by professionals who can conduct vehicle safety inspections, account for track safety, and evaluate drivers before they get behind the wheel.
Follow University Dodge on social media to see footage from the event when it takes place this upcoming August (2022). 
Photo Source/Copyright: Stellantis