Dodge Power Brokers is Open For Business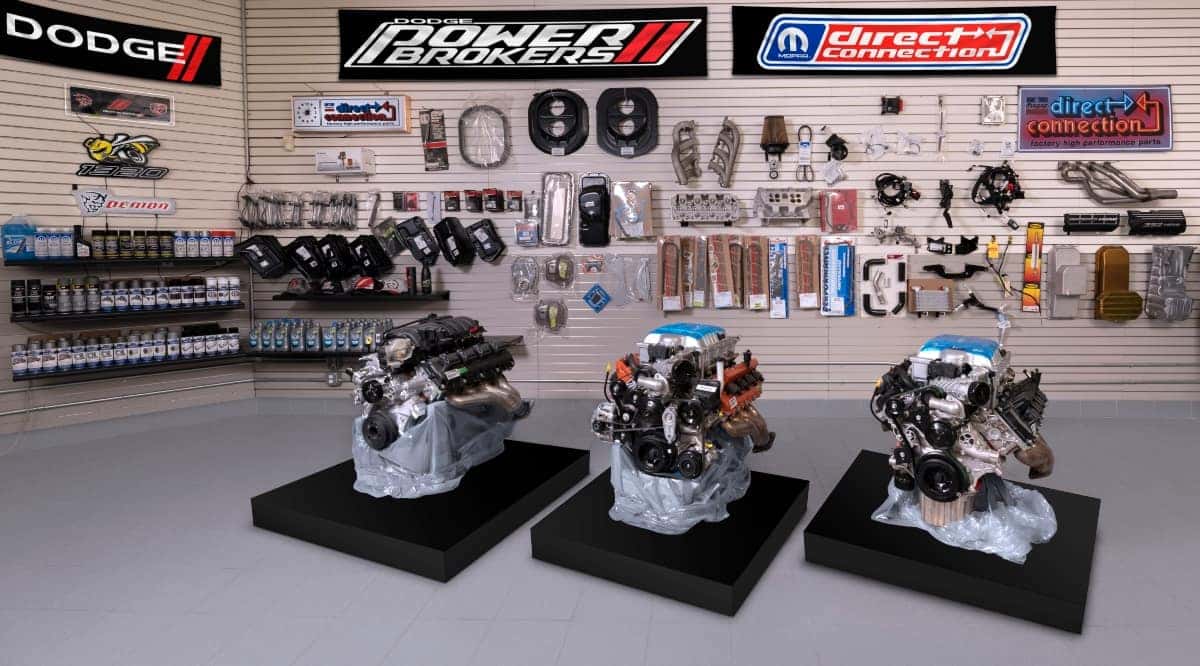 Good news for Dodge Brotherhood of Muscle enthusiasts, the brand's Dodge Power Brokers dealer network is officially open for business. The program is officially the only exclusive source of the new Direct Connection factory-backed performance parts lineup. Dodge's Power Brokers program will initially launch across 100 dealerships across 34 states, with an expansion planned for the near future. Dodge Power Brokers dealerships will also feature certified staff with comprehensive knowledge of Dodge vehicles, performance parts, and installation. 
Dodge also announced the launch of DCPerformance.com, allowing enthusiasts to place orders for Direct Connection performance products from the comfort of their own home. Direct Connection offers buyers more than 200 performance parts, including 14 performance kits tailored to the Dodge Challenger, 13 race-ready kits specifically designed for the Dodge Challenger Mopar Drag Pak, and tuner and stage kits that will bring even more horsepower to the Dodge Challenger SRT Hellcat Redeye. 
"Today marks a milestone for our brand –  the Dodge Power Brokers dealer network and DCPerformance.com are up and running and ready to accept orders for Direct Connection factory-backed performance parts from Dodge. Dodge Power Brokers are not only the exclusive source for Direct Connection parts, but these dealerships feature staff trained to walk enthusiasts through potential Direct Connection performance upgrades and then handle installation of Direct Connection parts, while maintaining the vehicle warranty. The network is rolling out with an initial group of nearly 100 dealers – that number is only going to grow," said Tim Kuniskis, Dodge Brand CEO – Stellantis. 
The launch of Dodge's Direct Connection Power Brokers Network marks the brand's entry into the next phase of its Never Lift campaign. Designed as a 24-month road map to unlock Dodge's performance future – likely the culmination of which will be its reveal of the brand's long-awaited electric vehicle offering in 2024. 
Dodge officially offers a network of elite dealerships that have trained staff and are ready to provide a performance-focused customer service experience. Required to meet high standards of comprehensive knowledge, certified Dodge Power Brokers dealerships will offer new levels of expertise in areas such as high-performance parts and installation, motorsports programs, as well as specific Dodge vehicle features. Selectively limiting this program to dealerships with a proven track record of elevated customer service adds a layer of exclusivity to the program.
"Every Dodge dealer in the country will continue to provide an outstanding sales and service experience. But Dodge Power Brokers dealers will offer everything an enthusiast needs to reach the next level of performance," added Kuniskis. 
The Dodge Power Brokers program also includes the addition of performance clinics for enthusiasts and offers potential buyers a full lineup of Dodge performance models to test drive. 
Visit us at University Dodge to get a taste of that famous Dodge performance. Explore our latest Dodge Performance inventory, including several SRT iterations of the Challenger, Charger, and Durango, and schedule your test drive today! Follow University Dodge on social media to stay up to date with Dodge's ongoing announcements.
Photo Source/Copyright: Stellantis