Dodge HEMI Challenge: 50 Years of Mopar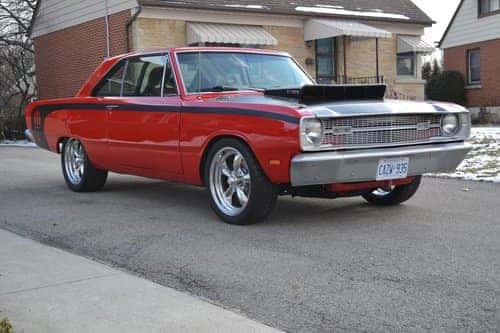 Recently announced by the Dodge brand, Dodge will again partner with NHRA's Dodge HEMI Challenge, which has been a fan-favorite event at the Chevrolet Performance U.S. Nationals for nearly two decades. To celebrate Mopar's 50th anniversary of the Mopar-powered 1968 Dodge Dart and Plymouth Barracuda Super Stock cars, both cars will compete for bragging rights.
The 2018 NHRA (National Hot Rod Association) Dodge Hemi Challenge is scheduled for Aug. 30-31 at Lucas Oil Raceway in Indianapolis. Fans from all over will want to witness that historic moment. Today, HEMI engines are synonymous with power and performance and that history started over half a century ago.
"The Dodge brand is proud to serve as title sponsor of the NHRA Dodge Hemi Challenge, an event that spotlights the legacy and power of the 426 HEMI engine," said Steve Beahm, Head of Passenger Cars, Dodge//SRT, Chrysler and FIAT, FCA North America. "This year marks the 50th anniversary of the Dodge Dart and Plymouth Barracuda Super Stock cars that debuted back in 1968 and are still competing today, which makes our support of this edition of the Hemi Challenge extra special."  
These are two legendary vehicles that run as smooth as they ever have thanks to impeccable craftsmanship and quality of Mopar parts. The fact a vehicle from 1968 can compete is testament to the quality represented by Dodge as well. A special, heavy-set trophy will be awarded to the winner. At 42.6-pounds, the NHRA Dodge HEMI Challenge trophy represents the 426 horsepower engine that is available in the 1968 Dodge Dart and Plymouth Barracuda Super Stock car. The size and scope and this unique award is representative of the popularity behind the Dodge brand.
"At each national event our Mopar-powered racers are keenly aware of the bonus presented by Dodge," said Graham Light, NHRA senior vice president, racing operations.
Future Dodge Sponsorship
Dodge also announced title sponsorship of the Dodge Mile-High NHRA Nationals Powered by Mopar, which is scheduled for July 20–22, 2018 at Bandimere Speedway near Denver, Colorado. Additionally, this is the third consecutive year that the Dodge brand will serve as the title sponsor of the Dodge NHRA Nationals in Reading, Pennsylvania, which will be held from Sept. 13-16.
Go Anywhere With Dodge
If you can't get enough of Dodge vehicles, check out your local Dodge dealer at University Dodge. If you want to experience your own Dodge Dart, look no further than University Dodge. Our sales team is here everyday if you want to buy, trade-in, sell or lease with us! There's plenty to choose from when it comes to our lineup or new and pre-owned vehicles. We're ready to show you our HEMI vehicles and fastest muscle cars from our Dodge branded vehicles.
We have a lot in our new line-up of Dodge vehicles from the powerful 2018 Dodge Durango SUV to the electric 2018 Dodge Challenger muscle car! Ask us about the latest vehicles for a test drive. Our experienced staff is ready to help you with any issues you might have with your current vehicle. From our trusted service team to our entire staff, we will welcome you and ensure we always do our best to repair any issues you have. Even if you didn't buy with us, we're open Monday through Saturday for service repairs.