Dodge Durango SRT Included in One of Autoblogs' Best of Lists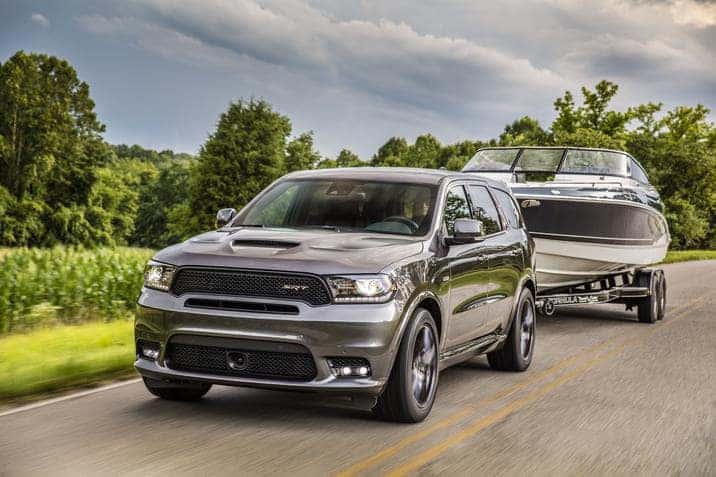 For some the best of both worlds is a large family vehicle that is a green car, for others the best of both worlds is a large family vehicle that's fun to drive and packs power, and that's the Dodge Durango SRT.
The Dodge Durango SRT was just introduced in 2018 and it made Autoblog's list of Best SUVs We've Driven This Year because it offers capabilities unmatched by any other SUV. The Dodge Durango SRT is equipped with a 6.4-liter HEMI V8 engine and it produces 475 horsepower and 470 lb-ft of torque and not only does that pack a punch, but it carries a lot of weight, too.
The Durango SRT has a National Hot Rod Association (NHRA)-certified time of accelerating from 0-60 mph in 4.4 seconds and it completes a quarter-mile in 12.9 seconds, making it the fastest and most capable three-row SUV on the market. In addition to speed, it can also tow a serious amount of weight. The Dodge Durango passes all other SUVs with its best-in-class maximum towing capacity of 8,700 pounds.
"If you need a vehicle to check three unseemingly disparate boxes, the Dodge Durango SRT makes a lot of sense. A third row and solid towing capability can be found in lots of competing vehicles. But if you need that car to be really entertaining when you're hauling your kids and boat somewhere — and a second vehicle is out of the question — the Durango SRT is a prime candidate." – Autoblog
Dodge Durango SRT Amenities
Aside from being able to tow a decent-sized boat or trailer and being super fast, the Dodge Durango SRT is also loaded up with plenty of amenities and they give it a sporty and luxurious feel. The Dodge Durango is equipped with seven seats and all passengers have plenty of legroom and everyone will enjoy the vehicle's Nappa leather seats and passengers in the front and second row seats will enjoy the vehicle's heated and ventilated seats. Buyers that really want to add a little more pizazz to the Durango SRT might want to opt for the available Demonic red leather seats.
The driver and front row passenger have access to the vehicle's large built-in touchscreen, which houses a variety of apps that offer entertainment features as well as the opportunity to stay connected to the outside world. The touchscreen also provides access to Uconnect's SRT Performance Pages, which provide drivers data on the vehicle's performance times and other helpful car data. The 2018 Durango SRT comes standard with a nine-speaker BeatsAudio premium sound system, which provide awesome listening quality.
People don't need to wait for the Durango SRT to start up to know its powerful, there are a lot of cues that the vehicle is a speed demon from the vehicle's exterior design. Like most performance vehicles, the Durango is equipped with a special hood, air extractors, four-inch dual exhausts and aerodynamic features that help the Durango achieve it's fast driving times as well as make the Durango look like it's more than just another SUV.
Dodge Durango SRT at University Dodge
University Dodge is the largest Ram truck and SRT dealer in the southeast U.S., so we get all of the newest models like the Durango SRT before any other dealer in the area. University Dodge currently has Durango SRT models available and we can always place new orders in case our available inventory doesn't have exactly what you want. However, we think we'll have what you are looking for!
Want to test drive the new 2018 Dodge Durango SRT? Come by University Dodge, we are located on S. University Dr. in Davie, Florida and we are open seven days a week, so it's easy to test drive models whenever you want.