Dodge Charger Pursuit and The New Officer Protection Package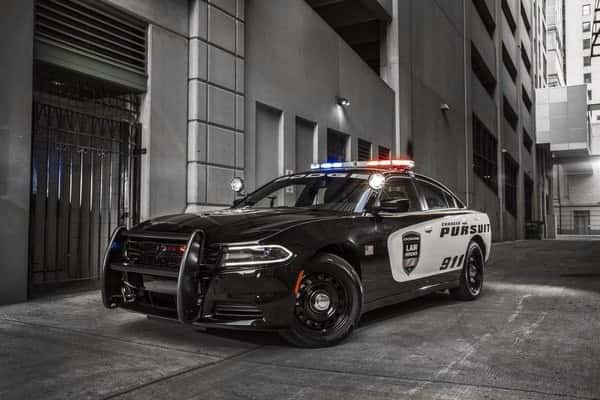 The Dodge Charger Pursuit is an exclusive Dodge vehicle that is specifically built (and only available) for law enforcement. The vehicle is designed to not only protect officers, but also prove needed and easy-to-use technology like a 12.1-inch touchscreen. To further protect the men and women in blue, Dodge now offers an "Officer Protection Package," which is provided by FCA at no additional cost.
Standard Pursuit features
12.1-inch touchscreen with an integrated law enforcement and UConnect system.
The screen does not obstruct the view of the driver like many other third party police computers or screens do.
Standard and powerful 3.6-liter V6 engine (292 horsepower).
A fourth auxiliary button which makes installation of police materials like LED lights, camera systems, the siren system easy.
Protection Package
The protection package offers many extra features to help keep law enforcement safe.
Designed to prevent an ambush of officers with a warning if the vehicle detects a subject approaching the vehicle from the rear.
ParkSense system with a back up camera, and rear park assist.
The system known as InterMotive not only alarms the police officer that a subject is approaching but it also activates the rear camera, so they can see what is happening.
Thank you to the men and women who keep us safe!

If you are on the market for a Dodge Charger and not the Dodge Charger Pursuit, you can check out our available Dodge Charger inventory here.
Photo source: Top Speed