Dodge Challenger SRT Hellcat: Red Key v. Black Key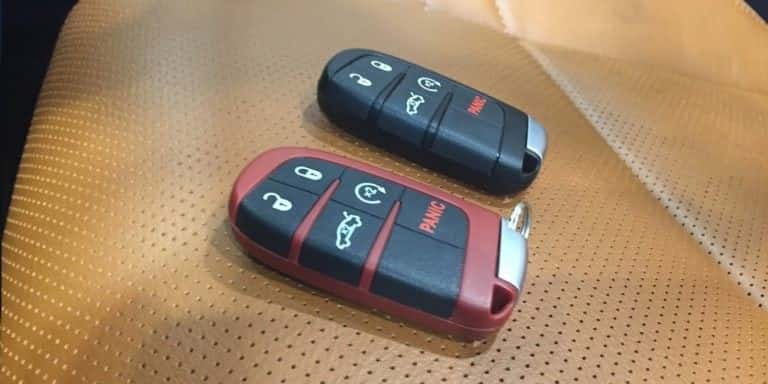 It's no secret that the Dodge Challenger SRT Hellcat is a monster of a car. Powered by a supercharged HEMI engine that delivers 707 horsepower and  650 lb-ft of torque, this baby was built for speed. But that raw speed also means that Dodge had to add some extra safety measures to better ensure not just anyone would unknowingly gets behind the wheel of a vehicle with all of that horsepower, so the Dodge Charger and Challenger SRT Hellcat models have a two-key system, one key that tones down the horsepower and one that unlocks all of the engine's potential.
Red Key
When using the red key, a driver can enjoy all of the Hellcat's 707 horses – no restrictions, just power. There is a clear indication on the navigation screen that shows, which key is in use while also showing transmission, paddle shifters, traction and suspension options as well. Basically, if you have a curious teenager in the house, hide this key!
Black Key
Although the Dodge Challenger SRT Hellcat is admittedly a lot easier to drive then one might think with all that power, there may be times where drivers don't want to fire up all of that horsepower, or don't want someone else (child or valet) to power up all of that horsepower. With the black key, the driver is restricted to only 500 horsepower versus 707 horsepower, which is still very powerful.
Interested in testing out the keys for yourself? Visit our location at University Dodge in Davie, FL or visit our website for available options.