Dodge Challenger SRT Demon Upgrades for $1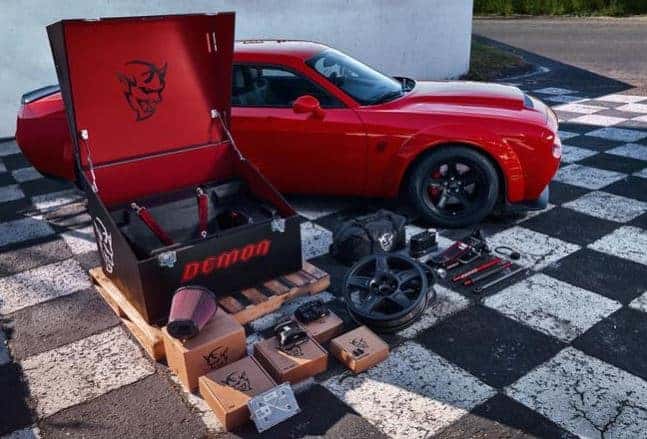 Unless you are buying food or shopping at the Dollar Store, there aren't a lot of things you can get with a dollar these days. However, buyers of the new 2018 Dodge Challenger SRT Demon can add some optional equipment that only costs $1.
Of the available add-ons that are only priced at $1, the Demon Crate is probably the most important. The Demon Crate includes all of the necessary tools and parts to transform the Dodge Challenger SRT Demon from a street legal vehicle into a race-ready monster when at the drag strip. With a value of more than $6,000, the Demon Crate contains performance parts like narrow front drag wheels, a performance powertrain control, valve stems and a special air filter. Also included in the parts is a replacement instrument panel that contains a button for high octane fuel, which tells the vehicle's system to extract the maximum power from the knock-resistant high-octane fuel by optimizing spark timing.
The tools that come with the Demon Crate include a hydraulic floor jack, a cordless impact wrench and charger, a torque wrench, a tire pressure gauge, a fender cover and tool bag. All of the tools have exclusive Demon branding, so it's easy to tell them apart from other tools.
Since designers focused on making the Challenger SRT Demon as light as possible to make it as fast as possible, the Challenger SRT Demon doesn't have a lot of features that many people expect to be standard, so Dodge made them available to buyers for $1.
Want to share your driving experience with a passenger? Buyers can opt for a cloth or leather rear passenger seat for just $1. Want your trunk to have carpeting? Buyers can also get that for $1.
The cool thing about the Dodge Challenger SRT Demon is that it's the only factory production car that is really meant to be a drag car. Though high-end features are available options, they aren't really necessary to truly enjoy the power, performance and raw capability of the Challenger SRT Demon.
University Dodge is one of the largest SRT dealers in the Southeast U.S. and we are usually one of the first dealerships in South Florida to get all of the newest SRT models. We have been allocated nine Dodge Challenger SRT Demon models, so come by and talk to us about reserving yours today.