Dodge and LEGO Debut New Speed Champions Collaboration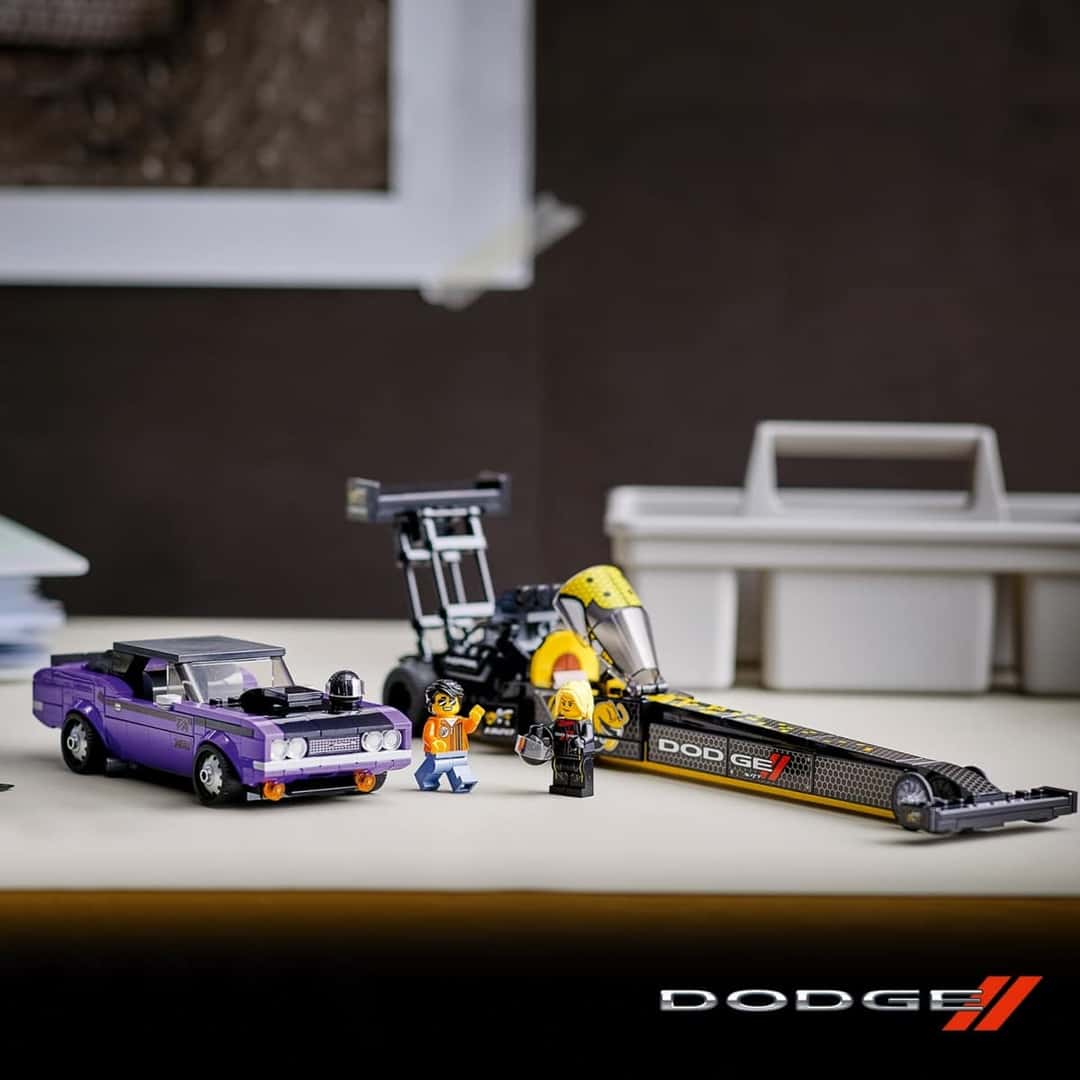 Dodge not only makes amazing muscle cars in real life, but the famed automaker also occasionally collaborates with the toymakers over at LEGO to make miniature cars as well. A second collaboration between the two giants is slated to launch on June 1, 2021. This marks the second time Dodge and LEGO join forces with the production of the new LEGO Speed Champions Mopar dodge//SRT Top Fuel Dragster and 1970 Dodge Challenger T/A building kit. This latest Speed Champions set includes the first purple vehicle and the first Top Fuel Dragster. 
"Owning, or aspiring to own, a Dodge muscle car is as much about the lifestyle of joining the Brotherhood of Muscle as it is about the vehicle purchase. As a result, our brand enthusiasts are passionate about all things Dodge, including the latest cool collectibles. So, following the success of the Dodge 2018 LEGO Speed Champions building set, fans will now be able to build and show off not only the first-ever 8-inch-wide (8W) muscle car but also the first-ever Plum Crazy 1970 Dodge Challenger T/A, along with an incredibly detailed 131/2-long Top Fuel Dragster," said Tim Kuniskis, Dodge Brand Chief Executive Officer — Stellantis.
The building set includes a total of 627 pieces, complete with box art that matches the real-life 1970 Challenger T/A and top Fuel Dragster so curious minds can use it as a guide. Packed with incredible detail, the latest LEGO Speed Champions set is great for fans of all ages that delivers a rewarding building experience, perfect for display and even better to race. Thanks to a wide chassis, the collectible toys now have room for more decorative stickers, including two tiny figures that donned race helmets and Dodge apparel. 
"In 2021, we are extremely excited to reteam with Dodge and expand the Speed Champions 8W Vehicle Collection even further by including new vehicle types and building experiences, for the first time, that appeal to vehicle fans of all ages," said Christopher Stamp, LEGO Design Lead.
Highlights
Dodge Challenger T/A is over 2 inches (5 cm) high, 5 inches (16 cm) long, and 2.5 inches (7 cm) wide
1970 Dodge Challenger T/A is the first purple vehicle in the LEGO Speed Champions series (named official Dodge color Plum Crazy)
One female Top Fuel Dragster driver in Dodge race suit
Mopar Dodge//SRT is over 4 inches (10 cm) high, 13.5 inches (35 cm) long and 2.5 inches (7 cm) wide
One male Challenger driver in Dodge-branded casual clothing
Like we mentioned prior, this new building set joins the previous LEGO Speed Champions set that featured a 2018 Dodge Challenger SRT Demon and a 1970 Dodge Charger R/T. The previous set launched in January of 2019.
Toys or minis not your thing? That's perfectly fine, because here at University Dodge we want you to get behind the wheel of a real Dodge Charger or Dodge Challenger. Explore our latest 2021 Dodge inventory and schedule your test drive today! Follow University Dodge on social media and stay up to date with the latest offers and news! 
Photo Source/Copyright: LEGO