7 Passenger Dodge Vehicles, Which Is Right For You?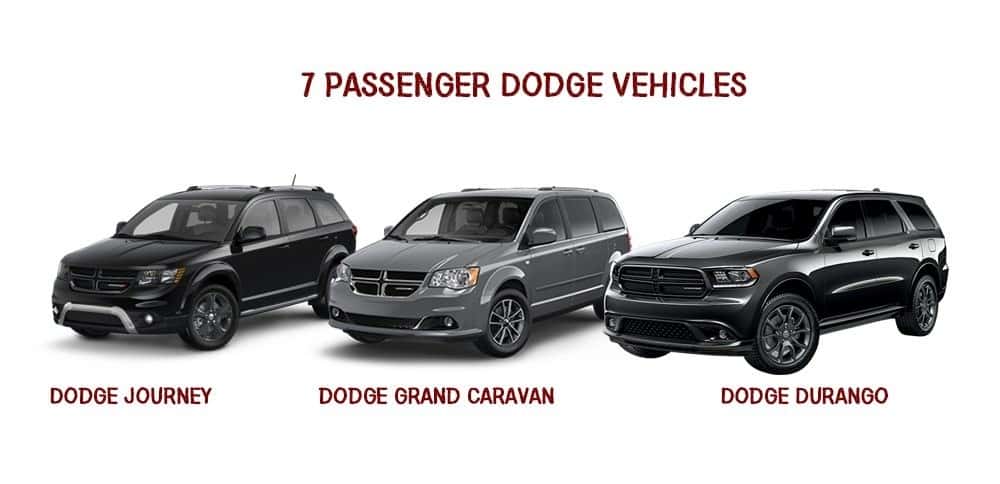 These days the auto industry is starting to realize that consumers want and need more from their cars. No longer are drivers looking for one type of car, many of us want a do it all. Why be locked into an SUV if we can get a crossover? Why get a sports car when we can get a minivan with some serious horsepower? These are the questions auto brands are starting to answer.
That brings us to Dodge and three of its family cars that come with value and 7-passenger seating. Reputable sources like Kelly Blue Book applauds all three vehicles on their pricing in relation to their features and performance. All three cars share similar features, but differ enough to separate them from the other. Let's take a look to decide which is the best seven passenger vehicle for today's family.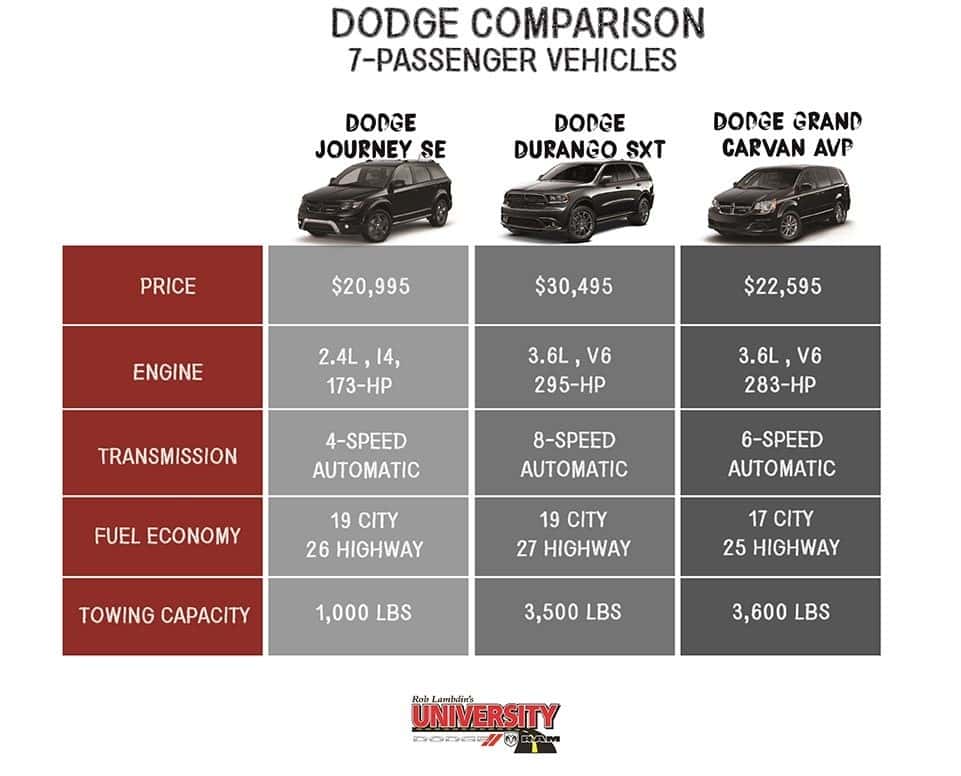 Overview and Engine Specs
Dodge Grand Caravan
The Dodge Grand Caravan is the go-to car for soccer mom's everywhere. The Grand Carvan minivan provides interior space that other models don't offer. Plus, it's Stow 'n Go seating offers extra cargo space whether going to the beach, camping, or little league play-offs. Plus, it offers a lot of convenience for under $30K*.
All of the Dodge Grand Caravan models are equipped with a 283-horsepower 3.6-liter V6 24-Valve VVT engine. The engine is paired to a 6-speed automatic transmission. The Grand Caravan has a fuel economy of 17 mpg in the city and 25 mpg on the highway. The Dodge Grand Carvan has a maximum towing capacity of 3,600 pounds.
Dodge Durango
SUVs have always held a special place in the hearts of American drivers and will continue to do so for years to come. Thanks to its passenger seating, cargo space, and towing capacity, there isn't a lot one can't do with this car. Add in the comfortable interior space and modern tech features, and the Durango is more than just another SUV.
The Dodge Durango SXT, the basic Durango trim, has a 295-horsepower 3.6liter V6 24-valve VVT engine paired to an 8-speed automatic transmission. The Durango has an average fuel economy of 19 mpg in the city and 27 mpg on the highway. The Durango SXT has a maximum towing capacity of 3,500 pounds, but the Durango R/T has a maximum towing capacity of up to 7,400 pounds.
Dodge Journey
Crossovers have been growing in popularity in recent years because they tend to offer the best of both worlds. KBB summed up the Journey in two words: "versatility" and "value." If that doesn't persuade buyers, maybe the Search Dodge vehicles at University DodgeJourney's storage space and infotainment system, will.
*Not all trims on the Journey and Durango have a seating capacity of 7.
The Dodge Journey SXT, one of the Journey's trims that is available with 7-passenger seating, has a 24-liter I4 DOHC 16-valve dual VVT engine that produces 173 horsepower. The engine is paired to a 4-speed automatic transmission. This engine configuartion has an average fuel economy of 19 mpg in the city and 26 mpg on the highway. The Journey SXT has a maximum towing capacity of 2,500 pounds.
Interior and Exterior
Dodge Grand Caravan
Maximum interior space is one of the highlights of this minivan, and when bringing family and friends along that is the most important requirement. Known for its trademark Stow 'n Go seats, drivers can fold down the second and third rows into the floor of the vehicle, or just the third row for storage.
When both rows are in the upright position, this frees up the two storage bins that offer 12 cubic feet of storage space. When the seats are folded in, over 140 cubic feet is made available. Plus, the third row of seating is split, so drivers can remove only half of the row when extra cargo space is needed.
Some of the luxurious features may only be options or standard for high-end trims, but even the basic trim comes with great features for convenience.
The exterior look has come a long way since its conception in 1983, but since the third generation the look and design has become almost iconic.
Dodge Durango
Although the Durango may not have Stow 'n Go seats, the second row is a fold and tumble seat, so it can be shifted around for extra storage space. The front passenger seat can also be folded down*, and if the second row is folded up, the would-be passenger can make use of the third row (split and fold capable).
With the fold-flat front passenger seat, tumble second row, and split-fold third row, drivers can make use of 84 cubic feet of cargo space.
Brought up to date to keep up with modern times, the interior features a powerful infotainment system to keep passengers entertained and the driver alert about upcoming detours or traffic updates.
The Durango has looked nearly the same in every generation, but in recent years received a stylish makeover for a sportier look.
*Not available option in the Citadel trim
Dodge Journey
Like its siblings, the Journey has a tilt and slide second row* and foldable third row seating when extra cargo space is needed.
Folding all of the seats down in the Journey provides up to 67 feet of storage room.
The more luxurious features may come standard in high-end trims, but even the basic trims come loaded with features not commonly found, like sunscreen glass, LED lamps, and an infotainment system.
The Journey has had a tried-and-true look throughout its lifetime all over the world. It was spruced up in 2011/12, but the biggest changes were made to the engine and updated features.
*Not available in SE trim.
Safety Features
All of the models come with many of the same safety features one would wish for in a minivan or SUV. They all come standard with LATCH Ready child seat anchor systems, trailer sway damping, advanced multi-stage front airbag systems, and electronic stability control. Each model has various other features that complement its safety and security.
Awards
Dodge Grand Caravan
Best Minivan/Van cost-to-own by Kelly Blue Book
Named in top 10 Most-Affordable 3-row Vehicle by Kelly Blue Book
For three years in a row, the Pentastar 3.6L V6 engine was named one of "Ward's 10 Best Engines."
Dodge Durango
Honored with Best Value Family in 2015 by Carspondent "Active Lifestyle Vehicle Awards"
Dodge Journey
Named in top 10 Most-Affordable 3-row Vehicle by Kelly Blue Book
Honored with Best Value On-Road in 2015 by Carspondent "Active Lifestyle Vehicle Awards"