2017 Ram Chassis Cabs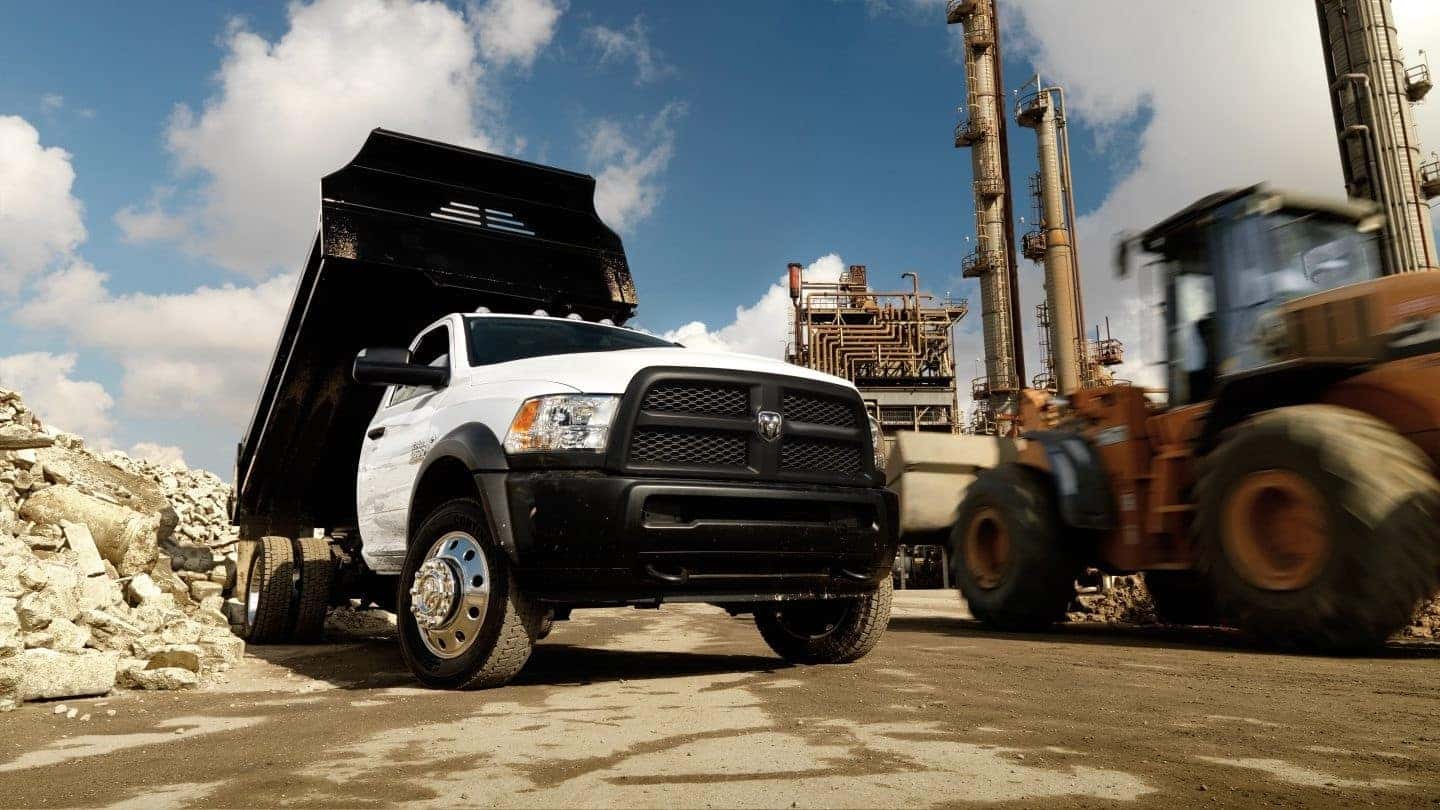 In comparison to the variety of manufacturers that make trucks, SUVs, minivans and sedans, the number of manufacturers that make heavy-duty commercial vehicles is one of the smallest. Knowing this, Ram worked hard to make their line of chassis cab trucks highly customizable to ensure businesses will be able to get a vehicle to meet their needs.
Customers have options ranging from models, wheelbases, gear ratios, engines, transmissions, upfits, and trims. Whether a utility company, construction company or towing company, Ram has chassis cab trucks that can get the toughest jobs done.
There are three different Ram chassis cab models: 3500, 4500 and 5500. The 3500 chassis cab is available with a single rear wheel (SRW) axle or a dual rear wheel (DRW) axle, and the 4500 and 5500 are only available with a DRW, also known as a dually. The 3500 SRW has the lowest payload and towing capacity, so it is ideal for businesses that don't need to tow upwards of 17,000 pounds.
There are a number of wheelbase lengths across the lineup and the smallest is 143.5 inches (available on 3500 chassis cab) and the largest is 204.5 inches (available on 4500 and 5500 chassis cab models. Buyers have the option of two different cab sizes (regular cab or crew cab), two drivetrains (4×4 or 4×2) as well as three different trims (Tradesman, SLT and Laramie).
The available gear ratios, engine and transmission options are great ways for buyers to get exactly the power they need from their truck without overdoing it. For some people, increasing a truck's standard gear ratio to a larger gear ratio is a better option in comparison to upgrading a truck's engine or going up to the next truck model. Gear ratios on the chassis cab lineup range from 3.42 up to 4.88.
The chassis cab lineup has two available engine options and four transmission options. One engine is the 6.4-liter HEMI V8 engine and when on the 6.4L engine is on the 3500 chassis cab, this engine can be paired to a 6-speed automatic transmission or the 6-speed AISIN automatic transmission. When the 6.4L HEMI engine is on the 4500 and 5500 chassis cab models, the engine is only paired to the AISIN transmission. This engine and transmission configuration produces 370 horsepower and 429 lb-ft of torque on the Ram 3500 chassis cab and 466 horsepower and 429 lb-ft of torque on the Ram 4500 and 5500 chassis cab models.
The other engine option is the 6.7-liter Cummins turbo diesel engine and it can be paired to a 6-speed manual transmission or when it is paired to the AISIN 6-speed automatic transmission, the engine is referred to as the 6.7L Cummins High Output Diesel engine. When equipped with a manual transmission, the truck produces 320 horsepower and 650 lb-ft of torque and with the AISIN transmission, the truck produces 325 horsepower and best-in-class 750 lb-ft of torque.
When it comes to towing and payload capacities, buyers are in good hands with a Ram chassis cab model.
The payload capacity of the Ram 3500 chassis cab (the smallest model) ranges from 3,630- 6,920 pounds and its towing capacity ranges from 14,600- 18,300 pounds.
The payload capacity of the Ram 4500 chassis cab ranges from 8,570-9,500 pounds and the towing capacity ranges from 16,300- 24,400 pounds.
The payload capacity of the Ram 5500 chassis cab ranges from 10,980-11,630 and the towing capacity ranges from 18,700 to 29,400 pounds.\\
As mentioned the chassis cab models are available with a regular cab or a crew cab. The regular cab offers seating for 2-3 passenger and the crew cab offers seating for 5-6 passengers. The Laramie trim is the upper trim level and it is equipped with all of the bells and whistles, including power and heated seats, ventilated front seats, a 115-volt auxiliary outlet and automatic A/C dual zone temperature control.
All Ram trucks are backed with a 3-year or 36,000-mile limited basic warranty and a limited powertrain warranty of five years or 60,000 miles on gas engines and five years of 100,000 miles on diesel engines.
The Ram 3500 SRW Tradesman has a starting MSRP of $36,345 and prices of the other models and configurations vary.
Interested in a Ram chassis cab truck? University Dodge Ram is one of the biggest Ram dealers in the Southeast U.S. and we have a huge selection of all Ram products, especially the Ram chassis cab line. Come see us in Davie and test drive one today! You can view our Ram truck inventory here.