2017 Dodge Charger Near Fort Lauderdale

Spacious, stylish and fun to drive, the 2017 Dodge Charger is the perfect car for 2017. Built for the everyday roads or people who want a super powerful car to race at the track, the Charger will please all types of drivers. The Charger is still a five-passenger sedan and the 2017 Charger has a five-star overall safety rating from the NHTSA, which makes it the choice vehicle for all families, professionals and even law enforcement.
Trims
The 2017 Charger lineup includes four engine options, eight different trims and they all have their own unique traits. Buyers have the option of all-wheel-drive on the Charger SE or SXT and all four engines are paired to an eight speed automatic transmission.
Six of the trims are returning models, but new to 2017 are the limited-edition Daytona trims, the Charger Daytona and Charger Daytona 392. The design of both of the Daytona models goes all the way back to the original Charger Daytona that raced in the Talladega 500 more than 50 years ago. It's return to the lineup in 2017 comes with plenty of stylish touches and upgraded performance parts.
Engines
The base engine on the Charger lineup is the 3.6-liter Pentastar V6 engine, but it's far from basic. This engine offers efficiency and a significant amount of power in comparison to most base engines on full-size sedans. The 3.6L engine produces 292 horsepower and 260 lb-ft of torque and best-in-class fuel economy of up to 31 highway mpg. This is the standard engine on the Charger SE and SXT Plus.
Each of the other three engines on the Charger lineup all have "HEMI" in their engine name. HEMI is in reference to the unique hemispherical combustion chambers on each cylinder. In comparison to flat combustion chambers, the hemispherical design results in less heat loss so fuel burns more evenly and it also allows for more room for intake and exhaust valves.
The next engine is a 5.7-liter HEMI V8 engine, which is standard on the Charger R/T and Charger Daytona. New to 2017, all 5.7L HEMI engines will be fitted with a 2.75 electronically controlled active exhaust system to further improve performance. The 5.7L HEMI maxes out at 370 horsepower and 395 lb-ft of torque.
Then there is the SRT-tuned 6.4-liter HEMI V8 engine and it produces 485 horsepower and 475 lb-ft of torque. With this engine the Charger can accelerate from 0-60 mph in the low four-second range. This engine is standard on the Charger R/T Scat Pack, Daytona 392 and Charger SRT 392.
Finally, there is the legendary SRT Hellcat engine that is reserved for the Charger SRT Hellcat. This engine is a supercharged 6.2-liter HEMI SRT Hellcat V8 engine. This engine pushes out 707 horsepower and 650 lb-ft of torque, making the Charger SRT Hellcat the fastest and most powerful sedan in the world. The Charger SRT Hellcat can accelerate from 0-60 mph in 3.4 seconds and has a top speed of 204 mph.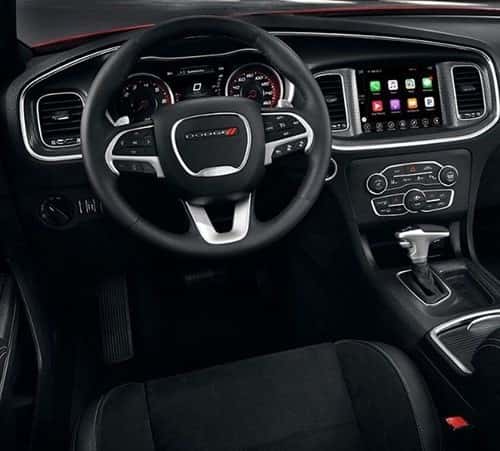 The 2017 Charger looks very similar to the 2016 model. It has a chiseled and aerodynamic exterior that has subtle design features to improve performance. There are a variety of wheel and tire choices available and the Charger SE rides on 17-inch cast aluminum wheels and low profile tires. Buyers have the choice of 12 vibrant exterior colors, some of which are a part of the High Impact Paint legacy.
The Charger comes standard with bi-function halogen projector headlamps and LED daytime running headlights. A dual-exhaust, remote proximity keyless entry and a rear window defroster are also standard on all Charger models.
Interior
The Charger has comfortable seating for five passengers. Seating options range from cloth to suede to leather and there are several interior color schemes. Air conditioning with a dual zone temperature control, a full-length floor console and solar control glass are all standard.
The Charger comes standard with a six-speaker system but other trims have other standard or optional systems like the 19-speaker system or Beats Audio Group. Uconnect 5.0 and a five-inch touchscreen is standard on the Charger SE and the other seven Charger models are equipped with an 8.4-inch with Uconnect 8.4 or Uconnect 8.4 with navigation.
Safety
The 2017 Charger earned a five-star overall safety rating from the NHTSA. As a car built for performance it has top-of-the-line safety features to protect all of its passengers. The 2017 Dodge Charger has advanced multistage airbags, supplemental front seat mounted side airbags and supplemental side curtain front and rear airbags. Ready alert braking, speed control and rain brake support are also standard features.
Want a new 2017 Dodge Charger?
Come down to University Dodge and test drive one today. We are located in Davie off S. University Dr. You can also view our Dodge Charger inventory online here.