2017 Dodge Challenger T/A + Dodge Charger Daytona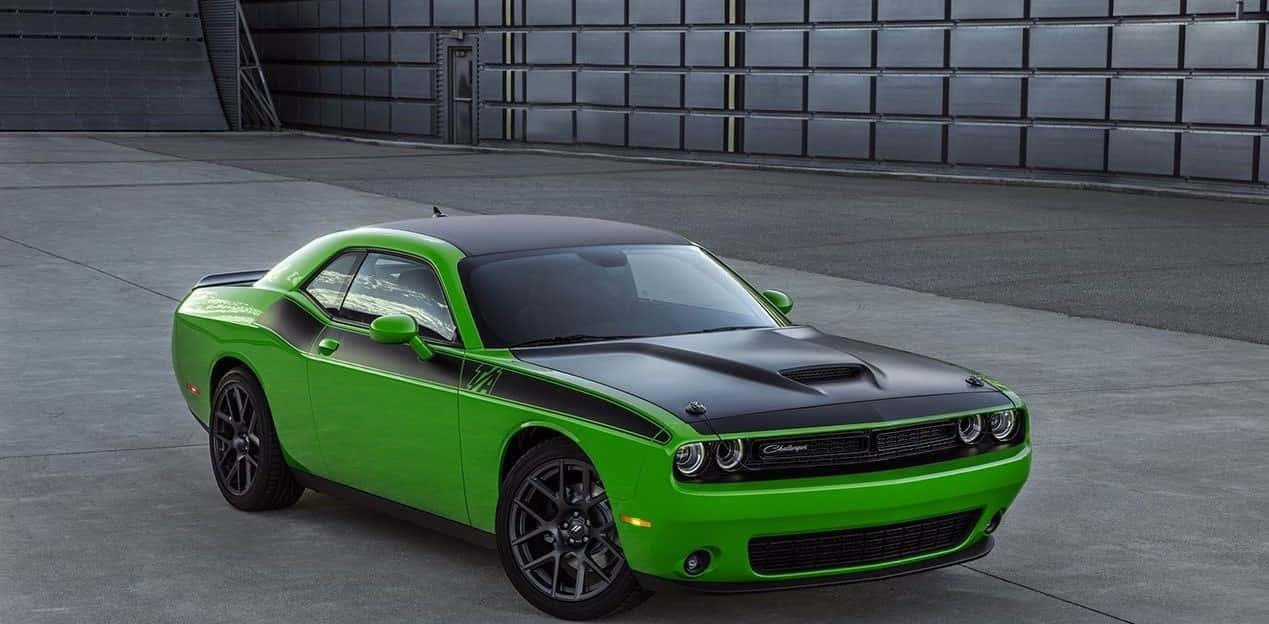 If you are looking for a new muscle car that has style, speed and heritage, check out the new 2017 Dodge Challenger T/A and 2017 Dodge Charger Daytona models. These new models are fierce and fun to drive and University Dodge has them all.
2017 Dodge Challenger T/A
The 2017 Dodge Challenger T/A (Trans Am) is a throwback to the original 1970 model made during the muscle car era in the early '70s. The special model was originally built for the Sports Car Club of America's (SCCA) Trans Am racing series in 1970 and it was only made for one model year. Fewer than 2,400 models were produced, so the 1970 Challenger T/A is a very desirable classic muscle car.
PERFORMANCE
The 2017 return of the Challenger T/A includes three different models (T/A, T/A Plus, T/A 392) and they all have performance features and have a little extra styling. The Challenger T/A and T/A Plus models are equipped with a 5.7-liter HEMI V8 engine, which produces 375 horsepower. The Challenger T/A 392 has a 6.4-liter "392" HEMI V-8 engine under the hood and it increases the Challenger's horsepower to 485 horses.
To give the Challenger T/A models a boost in performance, Dodge has added in some new features. The three new models have unique "Air Catcher" headlamps with LED-illuminated T/A logos and its new NACA ducted hood optimizes cold air intake. It also has an all-new 2.75-inch electronically controlled active performance exhaust system and 20-inch Mopar lightweight forged-aluminum wheels.
Dodge has also upgraded the vehicle's chassis with the added Super Track Pak. Upgrades include a 0.5-inch lowered suspension, high-performance Bilstein shock absorbers, performance brake linings, three-mode electronic stability control (ESC) calibration with "full off."
STYLE
The style of the 2017 Challenger T/A is bold and aggressive on the outside and smooth and luxurious in the inside. Features like a black satin hood decal, available hood pins, a LED split tail lamp and the T/A badging are just some of the features that make Challenger T/A models stand out from the pack.
Inside the Challenger T/A drivers will find luxurious and premium suede and leather trimmed seats with tungsten stitching accents, satin chrome finishings and a polyester shifter. There are also black accents on the bezels, gauges and climate control rings. This vehicle truly looks as good as it drives. The T/A is also introducing the heritage color, "Go Green."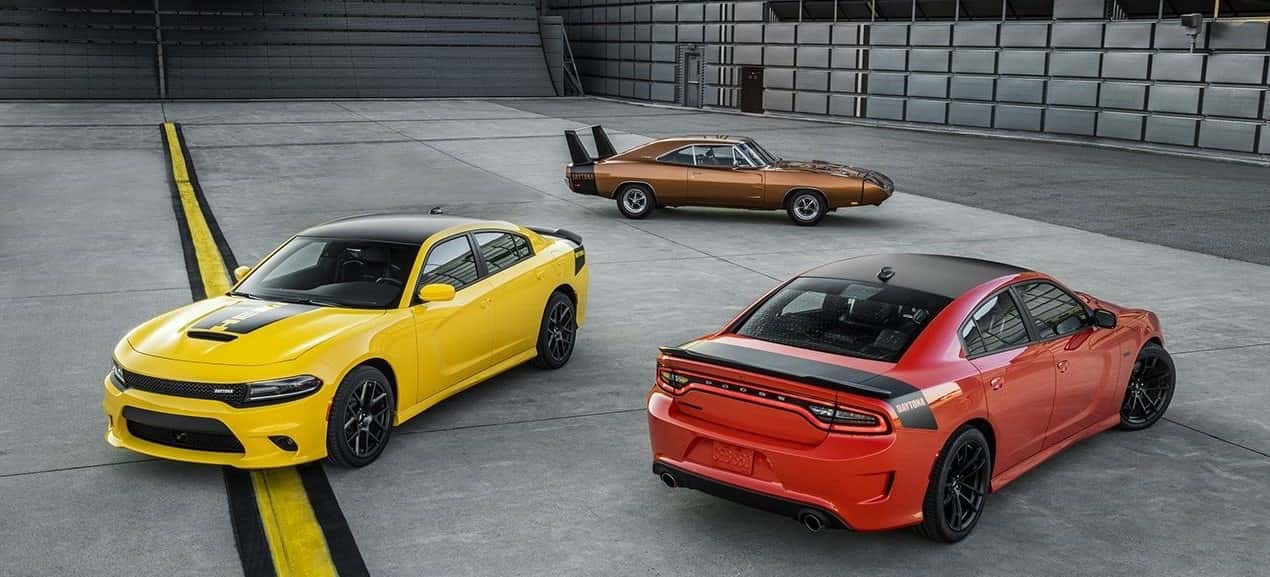 2017 Dodge Charger Daytona
The Charger Daytona was originally built for NASCAR and was seen at famed races like the Talladega 500 over 50 years ago. It has seen limited-edition runs two other times ('06-'09 and '13) and we have to say that the new Charger Daytona models are the best looking.
PERFORMANCE
The new Charger Daytona is inspired by the original model with a similar style and look in mind, but it has more power and technology (of course) then its predecessor. There are two Daytona models, the Charger Daytona and the Charger Daytona 392.
The Charger Daytona has a 375-horsepower 5.7-liter HEMI engine and the Daytona 392 has a 485-horsepower 6.4-liter "392" HEMI V-8 engine. Dodge has upgraded the Charger Daytona models with a Mopar cold-air induction system with conical air filter and an all-new electronically controlled active performance exhaust system. Like the Challenger T/A models, the new Charger Daytona models also have the Super Track Pak setup.
STYLE
The style of the Charger Daytona is very distinct. Specific features like a "HEMI" badged hood scoop, a rear spoiler, large Daytona side badging, and a distinctive grille with the Daytona badge are just some of the details that make this trim unique.
Inside the Daytona is a comfortable cockpit. Suede and leather seats with the Daytona name, a race-inspired black shifter, cockpit feel, and carbonite instrument panel with black bezels are just the beginning of the list of interior features unique to the Charger Daytona. A leather wrapped steering wheel, sport style seatings, and of course the highlest level of technology can also be found in the new special edition trim.
Want to test one of these new models out? Come to University Dodge and get behind the wheel, we have plenty of new Dodge Challenger and Dodge Charger models available!