2016 Ram Trucks Special Edition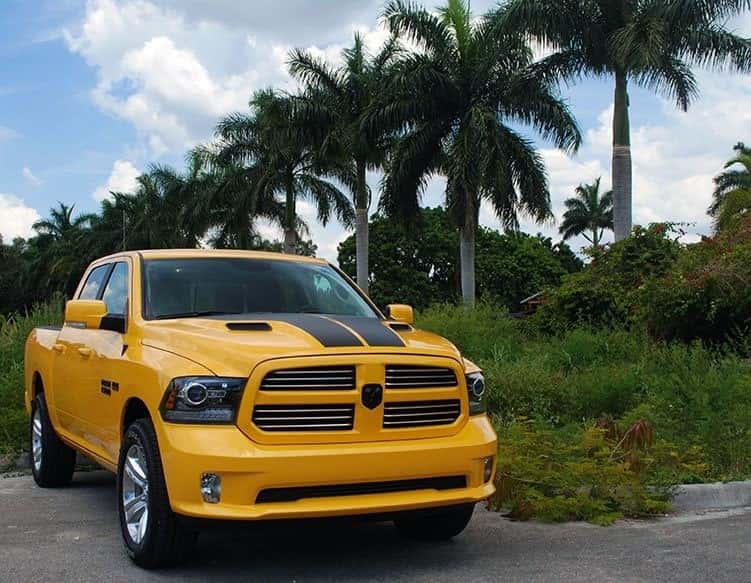 Offering the only light-duty diesel pickup truck that is also the most fuel efficient truck, the Ram 1500 HFE, and a lineup of heavy-duty trucks that have some of the highest towing capacities available, Ram has one of the strongest truck lineups available.
Specializing in only trucks and commercial vans, makes it possible for Ram to continuously improve and tweak their lineup. In an effort to be the top-pick for all truck buyers, Ram trucks has been busy with their collection of special- and limited-edition models and adding to that collection for the 2017 model year.In 2016, Ram added two special-edition Ram 1500 models to their lineup, and in 2017 there will be a new 2017 Ram Power Wagon hitting the streets. So if you are interested in not only driving a powerful truck, but also a unique looking truck, check out the highlights on the newest Ram truck models — 2017 Ram Power Wagon, Ram 1500 Yellow Stinger, 2016 Mopar Ram 1500 Rebel, the 2016 Ram 1500 Outdoorsman and the Ram 1500 Black Express.
2017 Ram Power Wagon
Based off the Ram 2500 Heavy Duty 4×4 Crew Cab, the 2017 Ram Power Wagon offers drivers the power of Ram's heavy-duty models with improved off-roading capabilities. Equipped with a 6.4-liter HEMI V8 engine, the Ram Power Wagon generates 410 horsepower and 429 lb-ft of torque.
The new Ram Power Wagon rides on 17-inch wheels wrapped in 33-inch Goodyear Wrangler DuraTrac tires that provide great traction. The truck has a towing capacity of 10,300 pounds and it is equipped with a Standard Warn 12,000-lb. electric winch mounted behind the front bumper, that is "able to hang competitors off the ground."
The 2017 Ram Power Wagon is coming this fall and University Dodge will be one of the first Dodge dealerships in South Florida to get it.
Mopar '16 Ram 1500 Rebel
In June Ram announced the new limited-edition Mopar '16 Ram 1500 Rebel. Based on the Ram 1500 Rebel models, Mopar took the off-roading vehicle a step farther with a unique appearance package and a number of special add-ons made by Mopar.
This is the first Mopar-edition truck that has ever been designed by Mopar. The new truck has a 5.7-liter HEMI engine and it has a variety of upgrades including 17-inch satin black wheels, black front bumper skid plate, wheel flares, serialized badge, special Mopar graphics and black racing stripes.
Only 500 of these limited-edition vehicles have been made and there are two of them (black and red) available at University Dodge.
2016 Ram 1500 Yellow Stinger Sport
As the name suggests, this Ram 1500 truck is bright yellow and it has a ton of style. Following the release of Ram trucks in "Yellow Rose of Texas," which were only available in Texas, Ram decided to open up the bold color to dealerships across the nation as a Ram 1500 Yellow Stinger Sportspecial-edition Ram 1500.
Based on the Ram 1500 Sport trims, this special-edition truck is available with racing stripes or in solid yellow. The crew cab truck is available with a 4×2 or 4×4 configuration and it is powered by a HEMI V-8 engine. In addition to the bright color, the truck has a dual chrome-tipped exhaust, vented sport hood and 22-inch wheels.
Only 2,250 of these trucks have been produced, but University Dodge has a few different options available. You can search our Ram 1500 Yellow Stinger Sport inventory here.
2016 Ram 1500 Outdoorsman
The Outdoorsman is the vehicle for the hunter or fishing enthusiast who wants a light-duty pickup that will go anywhere. The Outdoorsman is a four-door truck with four-wheel drive.
The standard engine for the Outdoorsman is an award-winning 3.6-liter V6 engine that offers 305-horsepower and and 269 lb-ft of torque and has a fuel economy of 18 MPG city and 25 MPG highway. While powerful, the engine features a compact, lightweight design with dual overhead camshafts, high-flow intake and exhaust ports. It has an eight-speed automatic transmission and a maximum towing capacity of 7,600 pounds, which makes it capable of towing small fishing boats or camping trailers.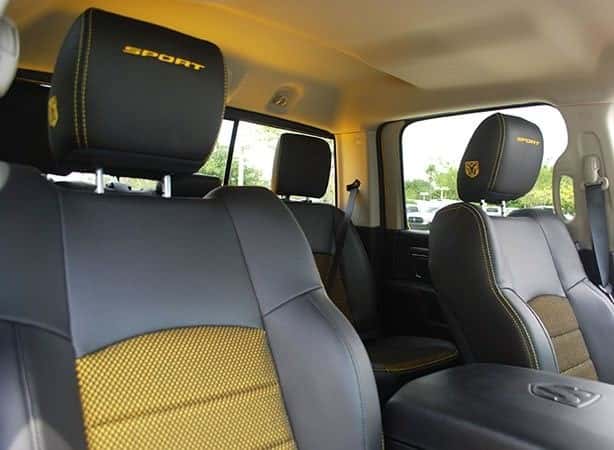 The Outdoorsman's Mossy Oak special edition is equipped with a 3.0-liter EcoDiesel V6 engine that delivers up to 29 MPG highway mpg with 240 horsepower and 420 lb-ft of torque. It has a maximum towing capacity of 9,200 pounds.The Outdoorsman has two unique storage systems. First is the easily accessible under-floor storage that is located in the truck's cabin. Second, is the Rambox Cargo Management System University Ram Outdoorsmanlocated in the truck's bed — and is a perfect place to store your day's catch or equipment. The storage system is built with anti-theft features and a drainage system for ice or in case of rain.
Like all Ram trucks, the Outdoorsman comes with stability control and trailer sway control as part of the safety system. The Outdoorsman features all-terrain tires and has camouflage accents on the exterior.
The 2016 Ram 1500 Outdoorsman Mossy Oak edition has a starting MSRP of 42,895.
2016 Ram Black 1500 Express
As its name implies, the 2016 Black Ram 1500 Express is a fierce all-black truck. The truck's grille is made of black hex-link and black quad halogen headlights. The truck features 20 x 8″ semi-gloss black aluminum rims and both of Ram's insignia's have been blacked out.
The Black Ram Express is available as a four-door model equipped with a 5.7-liter V8 HEMI engine coupled with a six-speed transmission. The vehicle's powerful 395-horsepower engine provides the truck with a maximum towing capacity of 10,860 pounds.
Remote keyless entry with AllSecure locking system comes standard on the Black 1500 Express and like the Outdoorsman, this trim is fitted with extra storage provided by the Rambox cargo management system.
The 2016 Black Ram 1500 Express has a starting MSRP of $28,840.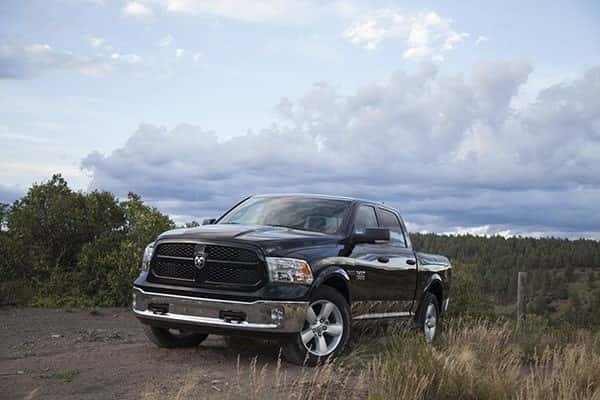 Safety
Special edition or not, all Ram trucks have side curtain airbags along with standard front airbags. They have side impact door beams as part of the heavy construction. All Ram trucks have four-wheel anti-lock disc brakes and LED headlamps to give drivers the best vision at night.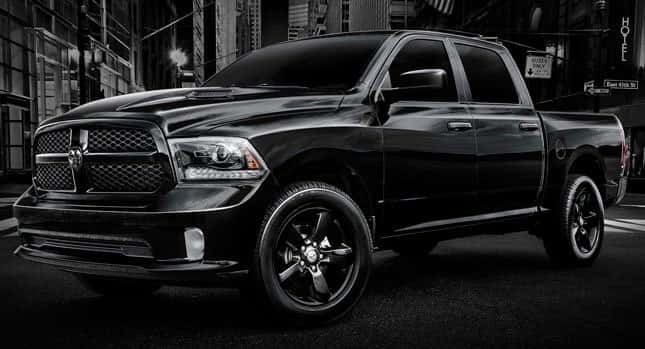 Interiors
The Ram special edition trucks feature a variety of interior options including heated steering wheel and side mirrors. Leather and fabric upholstery with special stitching are available offering style and durability. Wood trims can be ordered in several grains and colors.
It is the stylish electrical vehicle information center that helps to sets Ram trucks apart from other brands and models. The instrument panel comes in a six-ring cluster designed to look like antique watches using modern technology.
The optional Uconnect works with the safety features found in all Ram special edition trucks. The Uconnect 8.4 inch NAV screen can come with 3D terrain maps. The system also features voice commands, cell phone connectivity and regular road maps. Hotel and restaurant information are also available for people who are tired of "roughing it."
Ram, a division of Chrysler, is asking hunters to donate part of their catch to Ram Helps Hunger, an organization that helps to feed those in need of food.
Where can you get one?
Rob Lambdin's University Dodge has a great selection of 2016 Rams. We currently have a few different Black Ram 1500 Express models. Don't see what you are looking for online? Call or visit us at our store in Davie, Fla.