2016 Ram Chassis Trucks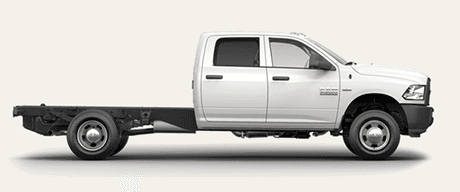 Ram has a long lineage of performance records, awards, and urban legends proclaiming their right to fame. One of Ram's most powerful trucks, the 2016 Ram Chassis Cab models is a reflection of Ram and Dodge's constant commitment to hard working professionals in need of reliability and tough performance.
The Ram Chassis truck is available in a number of various trims and styles ranging from the Chassis 3500, 4500 and 5500. With the 4500 and 5500 being "best in class" for max GCWR and max towing capacity, the Ram Chassis is a heavy-duty truck designed to get the job done — the easy way.
Engine Specs
There are two engine choices that a buyer can chose for their truck. The standard engine option is the 6.4-Liter V8 Heavy Duty HEMI engine coupled with a six-speed automatic transmission. The 6.4-liter engine is 370-horsepower and 450 pound-feet of torque. The other available engine is the 6.7-liter Cummins diesel engine which is paired with a six-speed automatic engine produces 350-horsepower at 950 pound-feet of torque. Since heavy-duty trucks burn a lot of fuel to transport such heavy loads, Ram has incorporated various methods for fuel savings. Buyers can opt for the bio diesel capability or a AISIN AS66RC six-speed automatic transmission that reduces fuel consumption while in cruising mode.
The dually differential is offered in several choices of gear ratios (4.44–3.42), as well as optional wheelbase ratios. Considering the number of possible combinations from the type of engine and axle ratio sizes, it's tough to put one number on the towing and payload capacity of the range of Ram Chassis trims. The basic Ram 3500 Chassis truck is capable of a payload capacity of 4,200 pounds and a maximum towing capacity of 17,920 pounds. The Ram 5500 Chassis has a payload capacity of 12,840 pounds and a maximum towing capacity of 29,600.
Interior
The truck's interior is as comfortable as it is rugged. it's tasteful, and laid out clearly. The control buttons and knobs are large; and there is a host of radio, phone, and navigation features are offered. The front seat is a heavy-duty vinyl bench seat and there is a storage bin located behind the seating.
Besides interior technology options–like integrated voice command Bluetooth–the SLT is available with package and option choices, like an electronically controlled throttle, Ram active air, or diesel exhaust brake. Options like a heavy-duty front suspension, heated/powered door mirrors, or an overhead console are just more of the many. But, despite it's comfort and technology capabilities, this is first–and foremost–a work truck.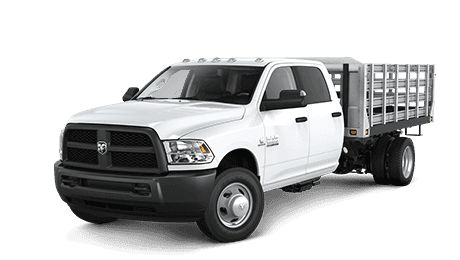 Exterior
The exterior is designed around an extra heavy-duty frame constructed with the working man's needs in mind: the rear rails of the frame are straight and flat, allowing for easy mounting of a variety of bed options, including uplifts. Likewise, all the wiring runs through the frame rails, protecting it from mishaps.
The cab itself is durable, solid steel, unlike the competition's truck bodies (which are reportedly infusing aluminum). And, while the Chassis series is typically advertised in white, it is available in other colors.
Pricing
The most basic Ram Chassis is the Ram 3500 SRW 10K GVWR Tradesman Chassis and it has a starting price of $32,470. Truck prices top-off with the Ram 5500 Laramie Chassis that has a price tag of $50,155.
Warranty
All Rams are backed by a 3-year or 36,000-mile limited warranty and 5 years or 100,000 miles of roadside assistance. Ram's diesel-powered vehicles have a 5-year or 100,000-mile diesel powertrain limited warranty and their gas-powered vehicles come with with a 5-year or 60,000-mile gas powertrain limited warranty.