2016 Kia Soul EV-e South Florida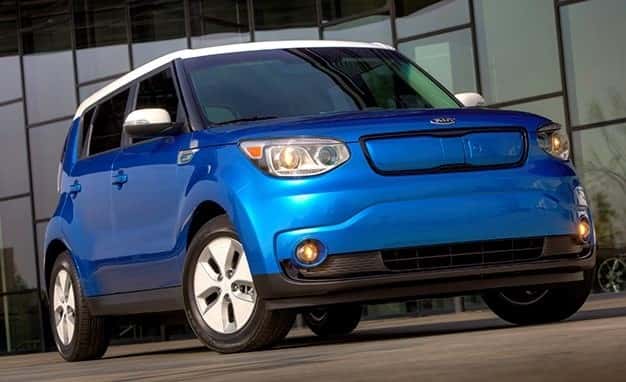 Combining style, zero emissions, money savings and safety — drivers of the Kia Soul EV-e often feel like they've hit the jackpot of car buying. Equipped with excellent interior features, a modern entertainment system and green car technology, the Kia Soul EV is an excellent vehicle for buyers who are worried about transitioning from a gas-powered vehicle to a fully-electric vehicle.
Battery
The 5-passenger Soul EV is equipped with a 27 kWh lithium-ion battery system has a best-in-class estimated driving range of 93 miles on a fully-charged battery. The car generates 109-horsepower, 210-torque lb.-ft and is equipped with regenerative braking, which allows the car to recharge the battery when braking — making it a great car for city driving. The car has an EPA MPGe (miles per gallon of gasoline equivalent) rating of 120 miles in the city, 92 on the highway and a combined MPGe of 105 miles.
The Soul comes with a DC Fast Charge port, which is the fastest available charging port on an electronic vehicle.The DC Fast Charge port provides almost an 80% charge to an empty battery after 30 minutes of being plugged into a standard 180-volt outlet.
Worried about running out of power when you are driving? According to Kia, there are over 26,000 240-volt charging outlets around the United States. Additionally, there are plenty of online resources for finding car-charging charging stations.
Interior
Not only is the Soul EV considered environmentally-friendly because it is powered by electricity and it is emission-free, but the vehicle's interior is also very "green." In 2014, the Kia Soul was 2016 Kia Soul EV-e interiorthe first vehicle to earn a UL Environment Validation for Bio-Based Organic Carbon Content for 10% of its interior plastic. The interior uses five different eco-friendly materials for the interior paint, fabrics, and compartments.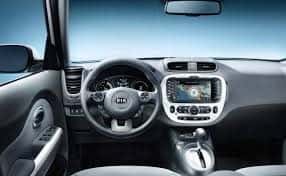 The Soul EV-e is equipped with six speakers and an FM/AM radio, and is equipped with SiriusXM for driver's who have a SiriusXM subscription.
Exterior
The car's exterior maintains the original look of the Kia Soul, but slight changes have been made to keep the car as aerodynamic as possible. The battery-powered system is located under the floorboard so owners have maximum room inside the car. Additionally, since there is no engine, there is no need for a front grille, which improves wind flow around the car. The car's tires are slimmer, resulting in less drag when in motion.
Safety
While the Kia is designed to be light, the Kia Soul does not lack safety features. Kia takes safety as a very serious matter and unlike some other brands, Kia offers the same safety features across all of the Soul's different trims. Among these safety features are dual front and side airbags and full-length side curtain airbags. In case of an accident, the front and rear crumple zones and side impact protection beams help keep damage to a minimum. Rear door safety locks help parents keep children from accidentally opening the car while it is moving.
Price and Warranty
The starting MSRP of the 2016 Kia Soul EV-e is $31,950, but after the $7,500 tax credit, the cost of the car drops down to $24,450.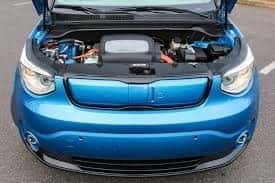 Kia backs all of its gas-powered cars with an excellent warranty and Kia's fully-electric cars are no different. The Kia Soul EV-e is backed by a 10-year or 100,000-mile powertrain warranty, 5-year of 60,000-mile basic warranty and covers the car's EV system (includes the battery) for 10 years or 100,000 miles.
Where can you get one?
University Dodge is one of South Florida's certified Dodge and Ram dealerships and is also a great place for used cars and certified pre-owned cars. We accept trade ins and buy used cars, so our inventory is always new and updated. Don't see what you are looking for on the website? Give us a call or stop in at the store, we may not have had the chance to add it to our site yet!