2016 Dodge Challenger Near Fort Lauderdale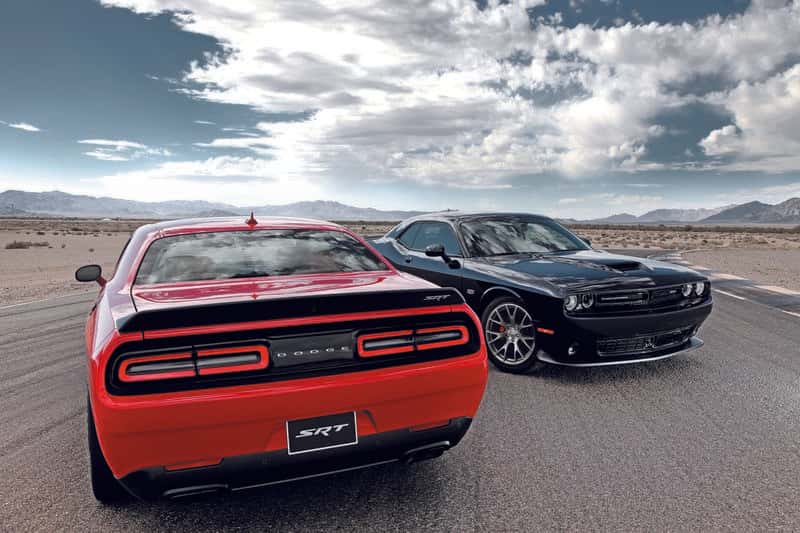 Looking for a new performance car to cruise the streets of Las Olas or South Beach? Something powerful, fast and iconic? Something that doesn't cost as much as a house but sounds like it could be. Oh, and a performance car that can seat five passengers comfortably?The 2016 Dodge Challenger meets all of those requirements and actually breaks records in terms of horsepower and track times, even among sports cars made by Lamborghini and Porsche. The entire Challenger lineup has four engines to choose from and the Challenger SRT Hellcat is the most powerful and fastest two-door muscle car ever. In case you aren't familiar with the Dodge Challenger, here's a rundown of its muscle car legacy, the current Challenger lineup, and what is to come in the future.
Dodge Challenger Quick Overview
The Dodge Challenger is an American muscle car that was created by Dodge in 1970. The first-generation Challenger was produced for four years and the second-generation Challenger was produced for five additional years from 1978 to 1983. 25 years later in 2008, the third-generation Challenger was released and it is the platform that is still being used on 2016 models.
Though more than 38 years separate the first and third generations, Dodge wanted the modern Challenger to have a similar look and feel that the original models had. The Challenger is still a two-door American muscle car that has four headlights in its rectangular large front grille. The shaker hoods that were once available on select Challenger models, are still an option on select Challenger trims today.
Trims and Engines Options
The 2016 Challenger lineup consists of ten different trims and four different engines, which make the Challenger an excellent option for a buyer that has specific needs or wants in mind. All Challengers come standard with a Tremec 6-speed manual transmission, but buyers have the option of the eight-speed TorqueFlite automatic transmission. Aside from badging, all of the Challenger trims look fairly similar, except for the three Challenger models that have the iconic shaker hood.
4 Engines
The base engine on the Challenger lineup is a 3.6-liter Pentastar six-cylinder engine. Though this engine is technically the "base" engine, it is still pretty powerful as it produces 305 horsepower and 268 lb-ft of torque. This engine is standard on the Challenger SXT and SXT Plus.
A step up from the base engine is the 5.7-liter HEMI V8 engine that generates 375 horsepower and 410 lb-ft of torque. This engine is available on four of the Challenger R/T (Road/Track) trims, the Challenger R/T, R/T Plus, R/T Shaker and R/T Plus Shaker.The other two engine options have been specially developed by Dodge's Street and Racing Technology (SRT) team. These engines and models are high-end performance cars with a number of records under their belt. Because these engines offer up so much power and speed, the Challenger trims they are on have been designed with special performance parts that can reign in and properly handle all of the engine's force.
The 6.4-liter V8 SRT HEMI is a 392-cubic-inch engine that produces 485 horsepower and 475 lb-ft of torque. This engine helps power the Challenger to 0-60 mph in the low four-second range and hit a top speed of 182 miles per hour (mph). This engine is standard on three Challenger trims, the Challenger R/T Scat Pack, Challenger 392 HEMI Scat Pack and the Challenger SRT 392.
Then finally there is the SRT Hellcat engine, which is a 6.2-liter Supercharged HEMI V8 SRT engine. This record-breaking engine generates 707 horsepower and 650 lb-ft of torque, power that is unmatched by some of the most expensive and high-end sportscars. The Challenger SRT Hellcat accelerates from 0-60 mpg in 0-60 mph in the mid-3 second range and it has a National Hot Rod Association (NHRA) certified quarter mile elapsed time of 11.2 seconds.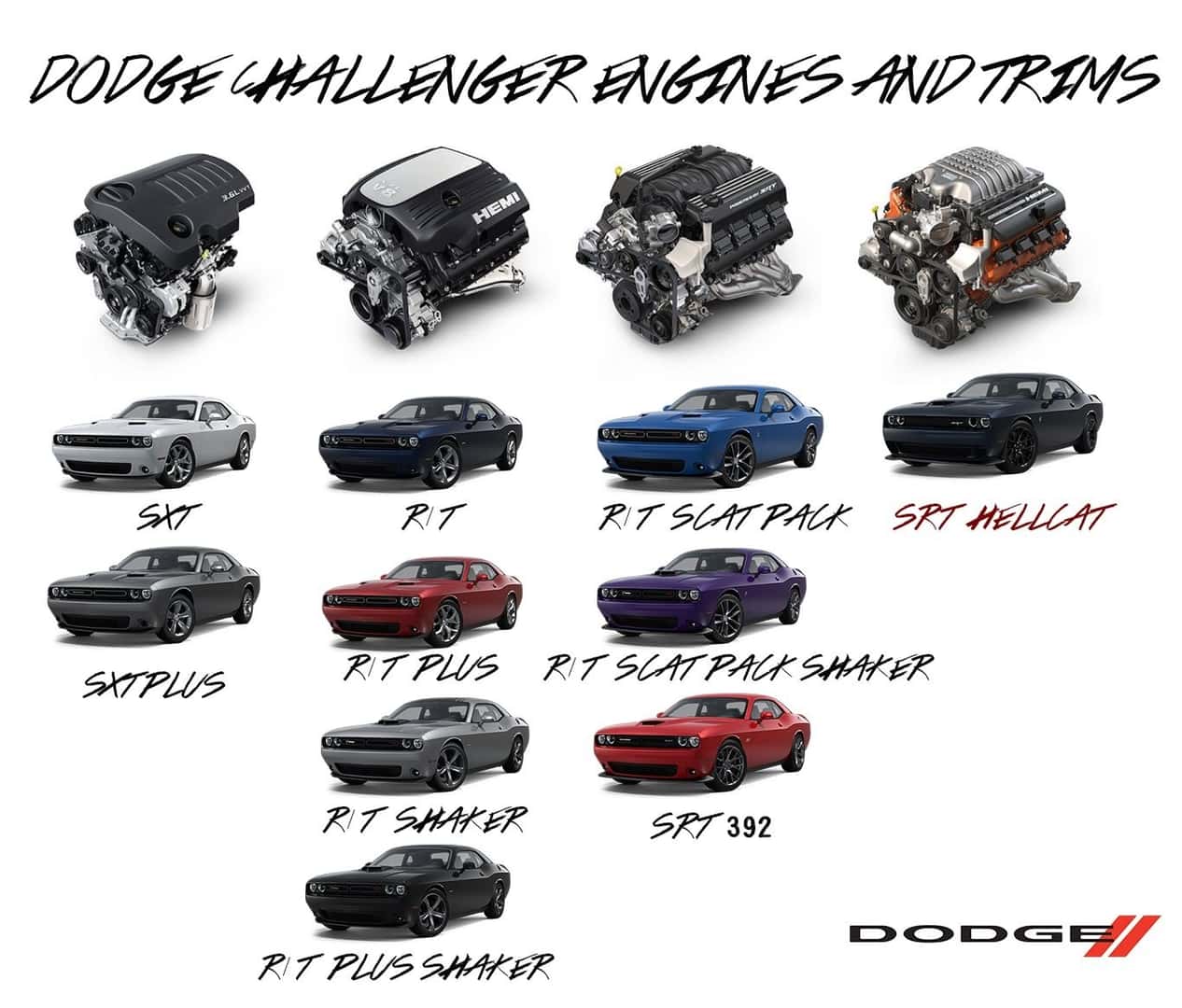 Exterior Design and Styling
As mentioned earlier, the third-generation Challenger that was introduced in 2008 was intended to to look more like the original 1970 Challenger. Like the original model, the Challenger has four-headlights in the vehicle's grille and the tail lights are wide rectangles that are split by the Dodge emblem.
The 2016 Challenger comes standard with 18-inch satin carbon aluminum rims and all-season tires, but there are a variety of rim and tire options on the Challenger lineup, including 20-inch polished aluminum, gloss black or brass monkey forged aluminum rims. Including the limited-edition 2016 High-Impact Paint color, Go Mango, there are 12 exterior colors available on various Challenger trims.
The Dodge Challenger trims that are equipped with SRT engines have a couple unique exterior features that enhance vehicle performance. These features include performance Brembo brakes, slight exterior changes to increase the vehicle's aerodynamics and 20-inch black forged aluminum wheels. Additionally, the driver's side parking lamp on the Challenger SRT Hellcat was deleted to enable an Air Catcher cold-air intake. This helps the supercharged 6.2-liter HEMI engine to deliver all of that horsepower and torque.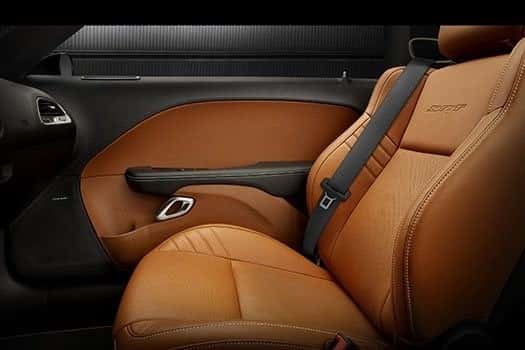 Interior
2016 Dodge Challenger interiorUnlike the Ford Mustang or Chevy Camaro, the Dodge Challenger is a two-door muscle car that has seating for five passengers. The Challenger SXT comes standard with cloth sport seats, but there are a variety of high-end materials like Nappa or Laguna leather on various Challenger models. All of the Challenger models feature a touchscreen display and Uconnect entertainment system.
Future
In 2017, the Challenger models as they are now won't change much, but the Challenger lineup will expand. Starting in October buyers will be able to start ordering the three new Challenger T/A models, which are Challenger models that were originally built for the Sports Car Club of America's Trans Am racing series in 1970.
These new models will be equipped with a variety of exterior features that help enhance the Challenger performance. With the revamp of these models, Dodge is also bringing adding two HIP colors to the exterior color pallet, a revamped Yellow Jacket hue and all-new Green Go.
Finally, the Challenger will also get a widebody Challenger SRT Hellcat model and the Challenger's with 3.6-liter engine will also be available with all-wheel drive.
All of these changes come before the Challenger receives a new platform in 2018.
Where can you get a 2016 Dodge Challenger?
University Dodge has one of the biggest selection of Dodge Challengers in South Florida. We have tons of colors and every single Dodge Challenger model in our inventory — event the Challenger SRT Hellcat.