Spotted: Dodge Charger Hellcat Widebody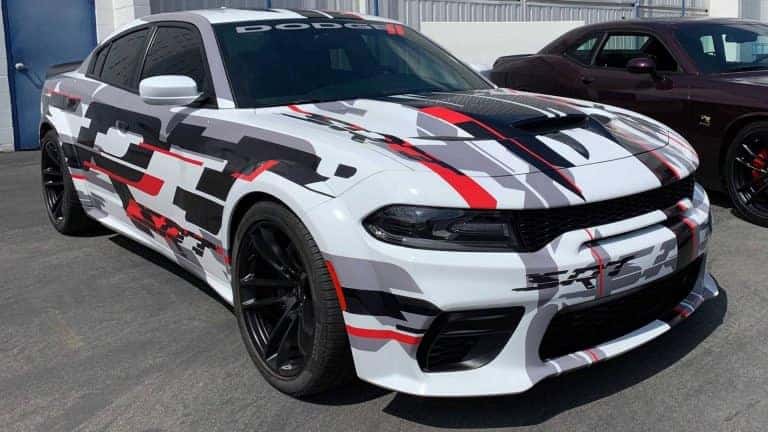 Not too long ago we reported about the debut of the Dodge Charger Widebody at the California Spring Fest. There were no press releases or any official photos from Dodge, and there haven't been any since the Spring Festival. The only confirmation about the existence of the Dodge Charger Widebody that enthusiasts have is a short video taken by someone in attendance. Industry experts presume that said Charger model is powered by the supercharged 6.2-liter Hellcat V8. Additionally, experts have been attempting to reach out to Dodge for further clarification, but the brand's answer was the always frustrating (and customary) "no comment on future product."
However, we now have more proof that the car does indeed exist, even if Dodge refuses to acknowledge that. An enthusiast who goes by the Instagram handle "evil_srt" recently shot some spy video that clearly caught a blue Charger SRT Hellcat Widebody out in plain sight. All signs point to the Charger being filmed for an upcoming promotional video or even a commercial for its official debut. In addition to the wider wheel arches and enhanced bumpers that make it obvious, this model is a Widebody, the spy video also shows a new body-colored rear spoiler, a huge rear diffuser that features a pair of integrated exhaust pipes and wider wheels.
We'll have the video for you below, but fair warning that it isn't of the highest quality. It'll take a few pauses for viewers to notice the details we mentioned above. The latest details more or less match the camouflaged concept that was presented at last month's (March 2019) event. Also, word on the street is that this new Charger variant will even feature a slight power boost over the "standard" Charger Hellcat and its 707 horsepower. Experts suspect that this Charger variant will likely top off at 717 horsepower.
Enthusiasts in need for even more power? Experts also suspect that a rumor circulating that claims a Charger SRT Hellcat Redeye may also be in the works, with power possibly topping off at 797 horsepower. Clearly, Dodge is dedicated to catering to the undying needs of speed demons and showcasing their prowess (and penchant) for making top-quality performance vehicles. Of course, nothing is confirmed at the moment, but Dodge always comes through with additional Charger and Challenger variants – and with each variant comes more power.
Looking to test your skills behind the wheel of a performance car? Pass by University Dodge and check out the Dodge Charger lineup. Ranging from the standard base variants to the performance-oriented Hellcat variants, the Dodge Charger and Challenger are the muscle cars of anyone's dreams. Here's hoping that official details will be made available soon since Summer is nearly here, and what better time for burnouts and general performance car mayhem? Follow University Dodge on social media to stay up to date with the latest Dodge news.
Photo Source/Copyright: carscoops.com