Ram is the Trusted Brand for the Macy's Thanksgiving Day Parade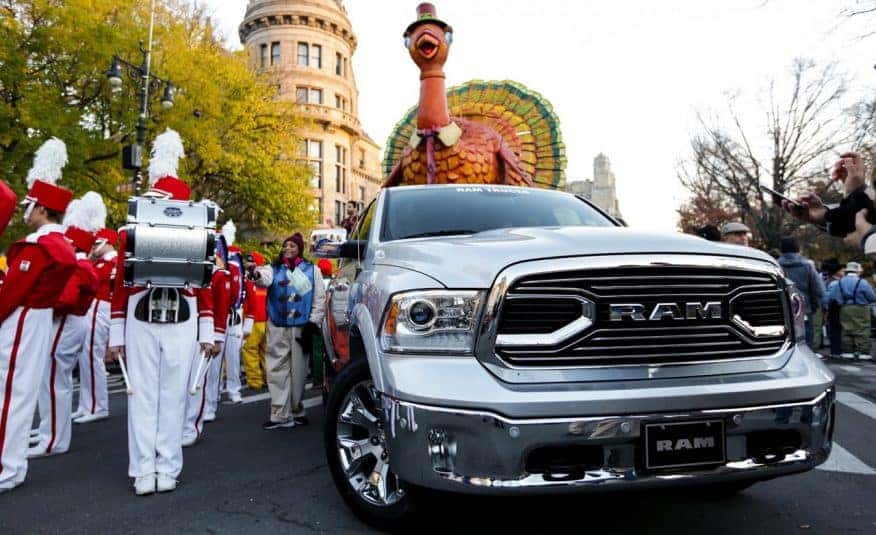 Wow, the Macy's Thanksgiving Day Parade was really something this year. Then again, every year it's a fantastic spectacle to see while prepping the turkey and any last-minute appetizers for the big day ahead. However, while everyone is looking at the many balloons and floats, does anyone wonder what's hauling such large creations? It's all thanks to Ram trucks.
For the third year in a row, Ram has been named the official truck brand entrusted by the Macy's Thanksgiving Day Parade to keep things running smoothly. In total, 70 Ram trucks are sent to the event, ranging from the Ram 1500 to Ram 3500 pickup trucks to haul all 26 floats in 2017. Several of Ram's commercial vans are also used for behind-the-scenes work, ranging from preparation to cross-communication between drivers.
How does Ram manage to haul floats as tall as three stories and several lanes wide? Well, if we're talking about the balloons, most are inflated with helium, so in some aspects they're weightless and are hauled by 20-50 people. However, depending on a possibly windy day and air friction, the balloons can still be a bit stubborn to maneuver. Then there's the floats on the ground to pull around, and Ram trucks take care of that with the power they deliver to get the job done.
Able to generate a maximum torque of 410 lb-ft when powered by a gas engine, the max towing capacity of a 2017 Ram 1500 is 10,620 pounds. Larger jobs may be handed off to the Ram 3500 heavy duty pickup truck, with a max towing capacity of 31,210 pounds when powered by its 6.7-liter I6 Cummins® turbo diesel engine, capable of generating 900 lb-ft of torque. Three Ram 3500 trucks and at least one Ram 2500 (max diesel towing capacity of 17,980 pounds) would be needed to move the largest float to date, weighing over 100,000 pounds.
"Ram continues to take great pride in aligning our brand with an iconic American event like the Macy's Thanksgiving Day Parade … Being the official truck of the parade provides an excellent opportunity to showcase the towing capability, style and innovation." – stated Mike Manley, Head of the Ram Brand for FCA-Global.
If the Ram truck brand can be trusted with such an important event seen nationwide every year, then that's saying something. Surely they can take care of the job you need done. Take a look at the Ram pickup trucks in our inventory today.
Photo Source/Copyright: CarAndDriver.com