Performance Sedans: 2016 Dodge Charger + 2017 Chevy SS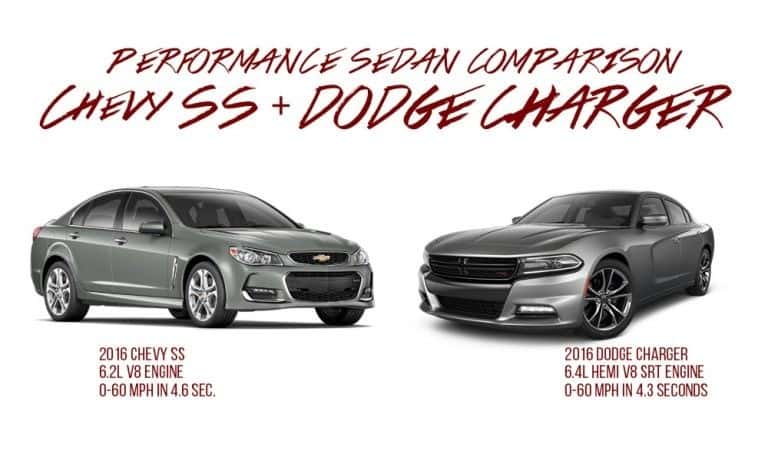 Just because you are responsible parent doesn't mean you don't want a car that has style, performance, and a little kick to it. If that sounds a bit like you, then chances are the Dodge Charger or the Chevy SS may be your next car. Both vehicles are bold choices that offer plenty of space for passengers, but don't sacrifice power and performance. Here's a closer look at both options.
The Chevy SS was introduced in 1961 and the Dodge Charger in 1966, and each car has a long history and have been through many transformations. Now, in 2017, both vehicles are spacious four-door, five-passenger sedans with rear-wheel-drive.
While the Dodge Charger lineup is fairly diverse in pricing and engine options, the Chevy SS is only available with one engine. So to keep things balanced, we will compare the Chevy SS ($46,575) with the two Charger models in that are in a similar price range, the Charger R/T Scat Pack ($39,995) and the Charger SRT 392 ($50,995).
Engines
Though priced differently, Charger R/T Scat Pack and Charger SRT 392 are equipped with the same 6.4-liter V8 SRT HEMI engine that is paired to an 8-speed automatic transmission. This engine produces 485 horsepower and 475 lb-ft of torque, which gives the Charger enough power to accelerate from 0-60 mph in 4.3 seconds.
Under the hood of the Chevy SS is a 6.2-liter V8 engine that pushes out 415 horsepower and 415 lb-ft of torque. The Chevy SS comes standard with a 6-speed automatic transmission, but it is also available with a 6-speed manual transmission for drivers that want to shift gears on their own. The Chevy SS can accelerate from 0-60 mph in 4.6 seconds.
Both vehicles have a fuel economy that is fairly typical of a performance car and they are pretty similar. The Charger R/T Scat Pack and SRT 392 has an average fuel economy of 15 mpg in the city and 25 mpg on the highway. The Chevy SS has a fuel economy of 14 mpg in the city and 22 mpg on the highway.
Performance Exterior
Brakes are very important on performance cars and to reign in all of that power, both manufacturers equip these vehicles with Brembo brakes complete with over-sized calipers. The Charger R/T Scat Pack and Chevy SS both have 4-piston calipers and the R/T Scat Pack is equipped with 14.2 inch front rotors whereas Chevy SS is equipped with 14-inch front rotors and 14.2 inch rear rotors. The Charger SRT 392 has larger 15.4-inch two-piece rotors and 6-piston calipers.
Spacious Interior
Unlike most two-door muscle cars, both the Charger and the SS have plenty of room for five passengers. Both Charger models are equipped with an 8.4-inch touchscreen display and six speakers. The Charger R/T Scat Pack has cloth seats and the Charger SRT 392 has leather seats. The The Chevy SS has an 8-inch touchscreen display, leather seating and nine Bose speakers.
Made up your mind yet?
If you are ready to get behind the wheel of Dodge Charger, come down to University Dodge and test drive one today.