Five of the Best Advanced Tech Features on the Ram 1500 Revolution BEV Concept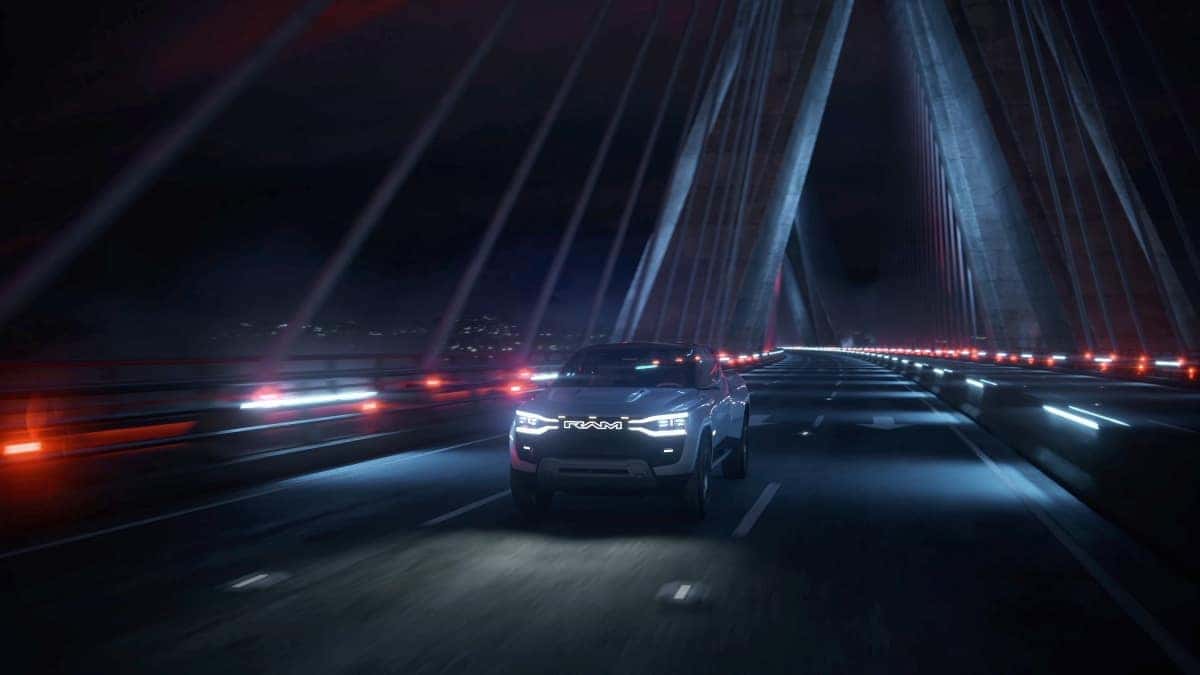 Not only does the Ram 1500 Revolution BEV Concept give enthusiasts a glimpse into the brand's future, it also offers a look at the brand's future technology offerings as part of its vehicles as well. A fully connected customer experience lies at the heart of the Ram 1500 Revolution BEV Concept, while advanced mobility features help deliver confidence for hard working folks every day, regardless of what line of work they're in. Seamless connectivity is designed to transform the experience for both passengers and drivers alike. The all-new concept from Ram Truck centralizes a consumer's digital lifestyle in the cabin of the vehicle, using advanced technology to design and implement a customized space for every occupant. Some of the Ram 1500 Revolution BEV Concept's unique technology features include the following:
Vehicle Personal Assistant
This virtual assistant is powered by Artificial Intelligence (AI) and is designed to enhance both in-vehicle and exterior interactions with users. There's a 3D Ram avatar acting as the vehicle's face and actively responding to numerous voice commands from users. Voice commands on the Ram 1500 Revolution BEV Concept also enable owners to direct commands even while outside the vehicle. Some examples include asking the Vehicle Personal Assistant to close the windows, take a picture, play music, and even "follow" when in Shadow Mode.
Shadow Mode
One of the coolest aspects of the Ram 1500 is Shadow Mode–a mode that automatically allows the vehicle to follow a driver walking ahead of the pickup. The voice-activated feature was designed to be used in situations where a driver doesn't want to get back in the pickup but needs to move just a short distance. While in Shadow Mode, the truck follows the driver at a safe distance while relying on sensors and advanced camera technology to maneuver its way around obstacles. 
Cabin Mode
With just the touch of a button the cabin mood can be altered thanks to Cabin Mode as settings can be adjusted to suit an experience at once. Some of the preset modes include Productivity Mode, Social Mode, Party Mode, Relax Mode, as well as other user-created modes. Changes within the cabin include lighting, seat position, window and skylight opacity, sound zones, display content, vehicle suspension and more.
Advanced Augmented Reality (AR) Heads-Up Display
Combining AR and the latest camera and sensor technology helps the Ram 1500 Revolution BEV Concept provide enhanced driving assistance. See-through vision technology helps the cameras and sensors create an atmosphere in which the AR HUD doesn't only display the usual speed and geographical information, but it also allows drivers to see objects outside their normal view range.
Intelligent Storage App
This mobile application helps users measure objects (without measuring tape!) to decide if they can be transported within their vehicle. To measure an object's dimensions, the app can help users by either scanning the barcode or relying on a built-in AR camera measuring tool. The mobile app can even help users to best position their objects in their vehicle –much like the beloved Tetris game–by using internal and external cabin projectors that assist that display guides on the target storage location.
Follow University Dodge on social media to stay up to date with the latest Ram news and offers. Visit us at University Dodge to check out the newest Ram Trucks inventory, including the Ram 1500 TRX and more! 
Photo Source/Copyright: Stellantis