Dodge Shows Off at the 2019 Chicago Auto Show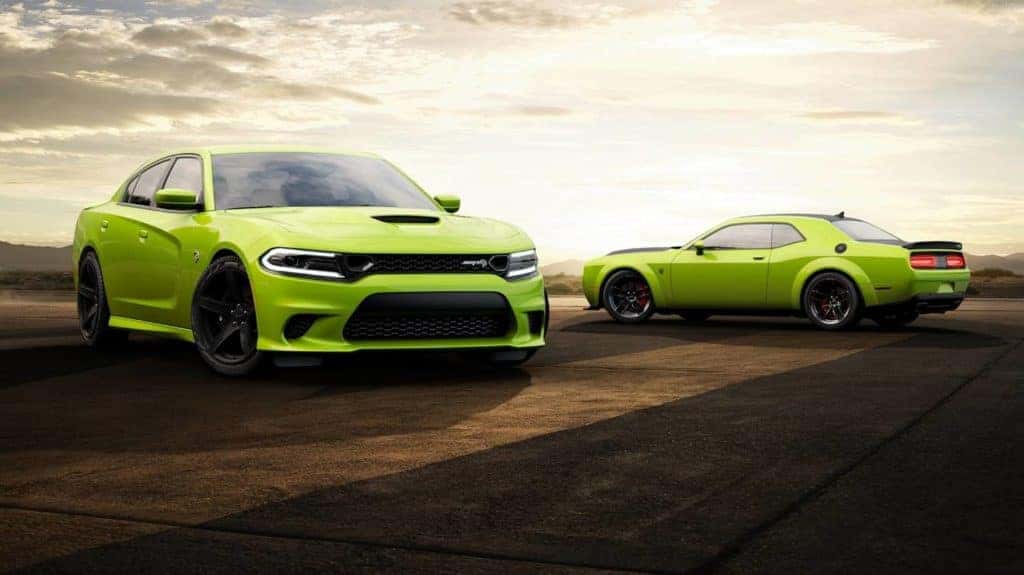 Devoted gearheads rejoice, Dodge is making headlines at the 2019 Chicago Auto Show by announcing the return of a much-loved classic Mopar paint color. The bright-hued (nearly mimicking a highlighter) Sublime makes Dodge muscle cars even more lovable and more attention-grabbing if that's even possible. Although Dodge has not made any substantial changes to the Charger's and Challenger's platforms in the past decade, the brand always manages to find new ways to improve its lineup and reward devoted customers.
A Dodge spokesperson confirmed that Sublime will be available across the entire lineup, no matter the trim – meaning from the budget-friendly V6 models to the fire-breathing Hellcat. Steve Beahm, head of passenger car brands for Fiat Chrysler Automobiles (FCA) North America, said in a statement "Our Dodge/SRT muscle cars give our customers what they want, an incredibly wide variety of performance models and high-impact color options. Whether it's Sublime paint, all-wheel-drive capability, or 797 horsepower, the Charger and Challenger stand out."
Sublime was available on the Challenger back in 2015, but not on every trim. The Charger sedan has not been coated in Sublime since the 2007 Daytona trim, meaning it's the first time the color will be available on the most recent generation of the car. Introduced in 1970 when Dodge brought the eye-popping color to the masses, Sublime harnesses that Dodge performance car spirit. The color will be available starting this Spring (2019).
Other changes for Dodge this year include six trim packages for the Charger – ranging on the affordable end we have the V6-powered GT and SXT all-wheel-drive models, and higher-tier R/T, Hellcat, and Scat Pack models. The Pentastar V6 that's standard on the GT and SXT (all-wheel-drive) trims features an eight-horsepower increase, bringing it to an even 300, while the rear-wheel-drive SXT remains at 292 horsepower. R/T Charger trims have a new air-channeling hood and a couple of handling upgrades.
Scat Pack-enhanced Charger trims and Hellcat trims feature more significant upgrades that include revised launch control, a line-lock system, and dual cold air ducts in their grilles. Additionally, the Hellcat will also offer an After-Run Chiller that cools the Hemi supercharger after the engine is shut off. It will also have a "torque reserve" mode that preloads the supercharger for an improved acceleration time off the line. The Charger outfitted with the Scat Pack boasts 485 horsepower and 475 lb-ft of torque, while the Hellcat offers 707 horsepower and 650 lb-ft of torque. Both the Charger and challenger will offer new interior options, including a cold weather package that offers heated cloth seats.
If you're a performance-minded car buyer, check out the 2019 Charger and Challenger lineup here at University Dodge. If you've got any questions prior to scheduling your test drive, reach out to us via University Dodge social media.
Photo Source/Copyright: Dodge