Dodge Plans for 24 Months of Muscle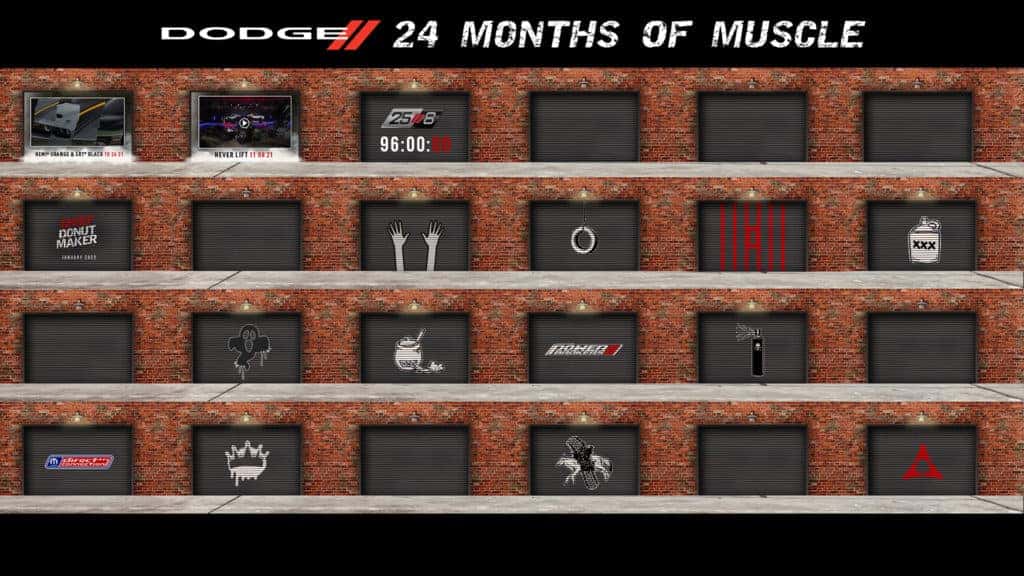 Tim Kuniskis, Dodge's Chief Executive Officer, unveiled the automaker's latest two-year business plan, often detailing what lies ahead for the muscle car purveyor. Dodge's Never Lift plan aims to introduce a product or have a fresh announcement for devoted automotive enthusiasts of the brand every three months. During the Never Lift rollout Kuniskis introduced several concepts that enthusiasts can look forward to in the coming 24 months. 
Operation 25//8
Dodge truly outdid itself with this initiative, a massive eight-week, 25-car giveaway aptly named Operation 25//8. Named as an homage to Dodge and its "Brotherhood of Muscle" that takes things to the next level, going above and beyond — 25//8! The giveaway aims to enlist 25 superstars from the sports, music, and automotive industries, giving muscle-car enthusiasts the opportunity to drive off behind the wheel of their favorite Dodge model. Amazon is also involved in the giveaway. 
"More than gas, more than batteries, what fuels our run to tomorrow is attitude, a belief that we can always push harder, run faster, and flat-out over-deliver on behalf of the brand and the Brotherhood of Muscle. 25//8 recognizes the spirit that makes Dodge, well, Dodge," stated Kuniskis. 
Chief Donut Maker
Another initiative proposed by Kuniskis is the ongoing search for a brand "ambassador" to embody the brand's latest Never Lift attitude. Kuniskis detailed the job, naming some job benefits, such as a hefty salary, special wardrobe, and a business card that simply reads "Chief Donut Maker."
"The Dodge brothers were scrappy go-getters. Never content to follow the trends, they were the seekers of a better, faster, more outrageous way of doing things. And we're looking to hire someone just like them as an ambassador of Never Lift," added Kuniskis. A more formal announcement about the "Chief Donut Maker" is expected in January (2022).
Dodge Power Brokers
The automaker also introduced its Power Brokers idea, a network of elite dealerships that'll have staff trained and ready to provide a thrilling and performance-focused customer service experience. Required to meet high standards of comprehensive knowledge, certified Dodge Power Brokers dealerships will offer new levels of expertise in areas such as high-performance parts and installation, motorsports programs, as well as specific Dodge vehicle features. Selectively limiting this program to dealerships with a proven track record of elevated customer service adds an air of exclusivity to the program.
"Every Dodge dealer in the country will continue to provide an outstanding sales and service experience. But Dodge Power Brokers dealers will offer everything an enthusiast needs to reach the next level of performance," said Kuniskis. 
The Dodge Power Brokers program also includes the addition of performance clinics for enthusiasts and offers potential buyers a full lineup of Dodge performance models to test drive. Power Brokers kicks off December 15 2021.
Direct Connection
As electrification looms, Dodge adjusts its business model. However, some things that were old are new again and Dodge is bringing back its Direct Connection performance parts brand as the main source of the automaker's factory-backed performance parts and other straight-from-the-manufacturer goodies. Power Brokers and the recently-revived Direct Connection performance parts will work in tandem to provide buyers with the best performance features Dodge has to offer. The program is slated to launch with a full lineup of factory-tuned parts, including all-new "Tuner" and "Stage" kits that give buyers the opportunity of installing 50-state-legal stage kit calibrations. In fact, the Direct Connection Stage II kit unlocks an additional 100 horsepower. Other kits are in the works to add even more horsepower. 
"Dodge is a pure performance brand, and the reintroduction of Direct Connection will empower members of the brotherhood looking for increased performance without violating emission requirements or the factory warranty. We're doubling down on our commitment to Direct Connection by pairing it with our new Dodge Power Brokers program, so when customers want to unlock the true horsepower potential of their Dodge muscle car, they can connect with a network of dealerships as their trusted source," Kuniskis added. 
Visit us at University Dodge to get a taste of that famous Dodge performance. Explore our latest Dodge Performance inventory, including several SRT iterations of the Challenger, Charger, and Durango, and schedule your test drive today! Follow University Dodge on social media to stay up to date with Dodge's ongoing announcements.
Photo Source/Copyright: Stellantis